Volunteer of the Month: Property Guardian Kevin Moore
31 May 2022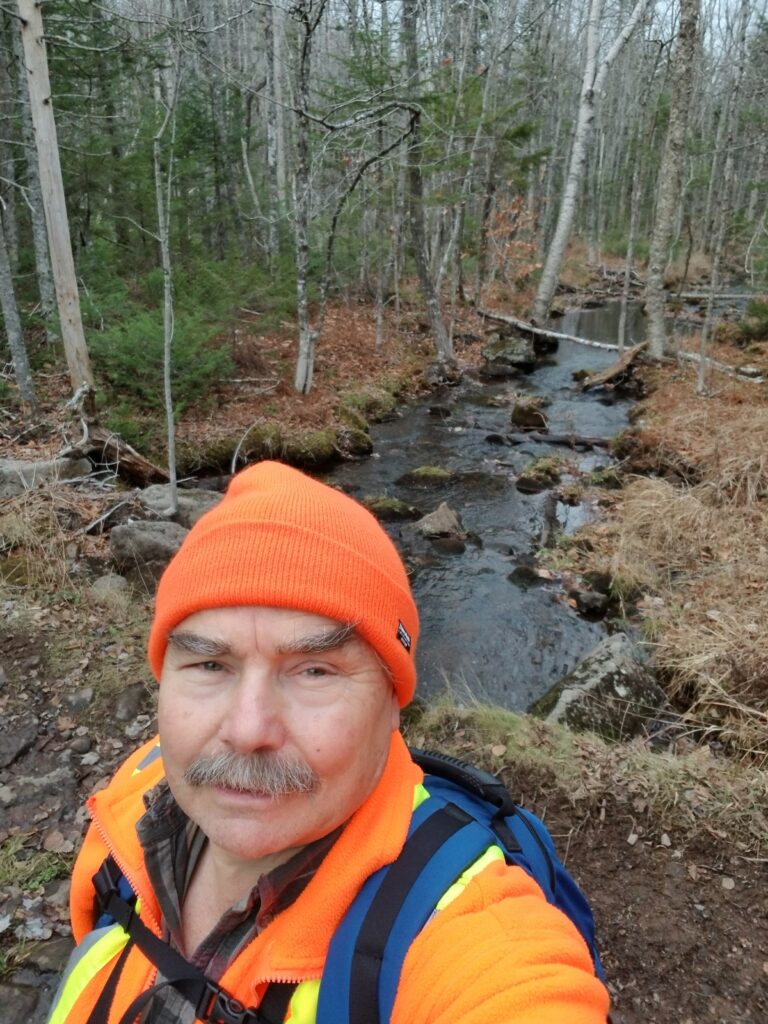 Our Volunteer of the Month, Kevin Moore, has volunteered with a variety of groups for most of his life. After living and working away for nearly 45 years, Kevin retired and moved back to Nova Scotia in late 2018 and was excited to explore his home province again. He was also looking for a new volunteer opportunity that would mesh best with his personal interests and values.
"I would consider myself a "museum brat" when I was young, as I would spend most of my Saturdays hanging around at the Nova Scotia Museum," says Kevin. "I've always found every aspect of natural history interesting – I usually focus on birds, mostly because they can be found any time of the year and in either cities or the countryside, but I love small mammals and herptiles too."
Kevin left Halifax when he was 19 to move to Newfoundland, where he lived and worked for 14 years before moving to Saskatchewan for 30 years. It was while working at Terra Nova National Park in Newfoundland that Kevin picked up birding as a hobby – there were few small mammals and no native herptiles to observe around him and so many birds that he decided to pick it up, and he's loved it ever since.  You are also likely to find Kevin looking at seaweed, butterflies or lichens when he's out hiking.
A fascination for natural history influenced Kevin's decisions about his education and career. After completing a Bachelor of Science in biology/geology at Dalhousie University and then a Bachelor of Education at Memorial University in Newfoundland, Kevin began a career working with different parks, science centres and museums across Canada. Kevin's work history was heavily focused in land protection management, with his final job before retiring being the superintendent for South Saskatchewan Field Unit (including Grasslands National Park) with Parks Canada.
Kevin was introduced to the Nature Trust when he became a donor in 2018 and decided to volunteer in 2019 after he moved home to Nova Scotia.
"After working with different parks across the country for so long, my mindset is always on the value of protecting land, and the Nature Trust's mandate fits very strongly with that," says Kevin. "When I moved home, I wanted to volunteer with one group that I could best apply my skills and knowledge, and the Nature Trust has been the best fit."
As a volunteer, Kevin's main role is as a Property Guardian for our North Mountain Woodlands Conservation Lands, where he regularly visits to monitor for human activity and removes any traces of activity, such as hunting blinds or tarps. Kevin's also monitored other properties and is always happy to visit new lands after they've been secured.
"There are so many great properties to visit and the potential to help monitor new areas is very exciting," says Kevin. "I loved being able to visit the rare gypsum karst in St. Croix and I can't wait to explore other areas with interesting habitat or topography – I'm looking forward to surveying saltwater marshes on the south shore as well."
Although he is not officially a volunteer with our "Bird's Eye View" program, Kevin still uses his birding skills when he can and enjoys reporting on birds in any of the Nature Trust properties he visits.
"I love volunteering – it's so important and so much more enjoyable when the organization you're volunteering with meshes with your own personal interests and values."
Thank you, Kevin, for your invaluable dedication as a Nova Scotia Nature Trust volunteer! To learn more about how Property Guardians help us keep our promise of "forever wild" across our growing network of protected lands, visit our Property Guardians page.