Help Keep Nova Scotia's Special Places Wild - Forever!
Do you love the outdoors? Do you want to help protect nature in Nova Scotia?  Volunteer as a Nature Trust Property Guardian!
The Nova Scotia Nature Trust works with landowners, volunteers and community partners to protect our treasured natural legacy through private land conservation.
To date, we have saved over 170 conservation sites encompassing over 22,000 acres of old growth forests,  iconic coastlines, islands, lakes, rivers, wetlands, and important habitat for wildlife.
But saving land is just the beginning! We promise to protect our conservation lands, forever. To meet this 'forever wild' commitment, we maintain an active land stewardship program to care for and manage our conservation lands, which allows nature to thrive.
Our Property Guardians volunteers are critical to successful land stewardship, and the need for volunteers is growing. We are currently working on a new local "hub" model for areas of the province where we have a high density of conservation lands. Engaging local volunteers is key to ensuring our lands are receiving the care they deserve.
Learn more about how we're Connecting Communities to Nature.
Who Are Property Guardians?
Enthusiastic, outdoorsy, conservation-minded volunteers of all ages
Individuals, groups, and families
A network of volunteers who monitor and care for conservation lands owned or legally protected by the Nature Trust
Ambassadors for nature, both on our lands and in the communities in which we work
What Do Property Guardians Do?
Choose a nearby, easy to access property that you visit regularly, or a remote wilderness site you visit once a year
Let us know any concerns or exciting findings
Help with monitoring activities to help us understand changes over time
You can choose to join in other stewardship activities such as:
Beach cleanups, boundary marking, trail building, public education and special events
You may provide key professional expertise
Property Guardians contribute in many ways.
To find out more about becoming a Property Guardian please contact us at volunteer@nsnt.ca or call (902) 425-5263.
Resources for Property Guardians: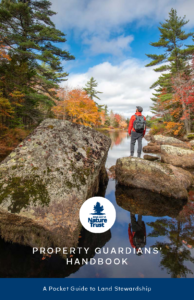 Check out our Property Guardians Handbook to learn more about the Nature Trust's approach to stewardship and the role of our volunteer Property Guardians.
Property Guardian Monitoring Report Form- Fillable PDF