Security for Blue Mountain: Another Way to Protect Twice the Wild
14 Dec 2020
Donna McGrath first went to Blue Mountain more than fifteen years ago, on a guided hike with Halifax Recreation. When they climbed to the top of a big hill to look toward the city, she was struck by how close it was. "I remember thinking, Isn't this amazing, that we can have this huge wild area and still be so close to town? It's such an important thing, to have a large wilderness area where you can go and have a good day's walk so near town without having to drive a long distance or have your own transportation."
Home isn't just something nearby, either. For many Nova Scotians, being out in nature feels like coming home. That's how Allyn Clarke describes being in the Blue Mountain-Birch Cove Lakes. Having grown up in a remote fly-in mining camp in northern Ontario, Allyn says that whenever he encounters a similar landscape, he feels like he has come home. "That's how I feel in the Birch Cove area – lakes, rocks, and trees." 
When he and his wife, Sandra, came to Halifax in 1970, the Birch Cove Lakes were one the first wilderness areas they encountered. "We saw the cars parked on the Bi-Hi and we just followed them in. Trails are getting better documented now, but it used to be that that was the best way to find trails in Nova Scotia. I think I've followed every trail I ever saw with a car parked in front of it!" 
The pair continued to hike there together for many years. It has a particularly special place in Allyn's heart, because it was the first place his older daughter swam, at eighteen months old. Sandra, a former high school teacher, also loved venturing out on collecting trips to renew the materials in the educational kits she prepared in her role as a volunteer school guide at the Museum of Natural History. "So when it started being talked about as a wilderness area," says Allyn, "I took special interest in it."
Like Sandra, Bob and Wendy McDonald have dedicated themselves to helping the public learn about and understand their natural world. They see the Blue Mountain-Birch Cove Lakes as a unique resource, rich in wildlife and opportunities to explore: "If that's going to be the outdoor classroom, then we're very lucky."
The diversity of wildlife in the area is not just well-known – it's well-documented, too! In fact, when Bob was assigned his 10 kilometer square to monitor for the Maritime Breeding Bird Atlas, his square included that area. He and Wendy have also walked every trail they can access recording wildlife observations through iNaturalist. And Blue Mountain-Birch Cove Lakes was chosen as the site of one of the bioblitzes organized in honour of Canada150 three years ago,  an initiative that engaged the community as well as professional naturalists and biologists.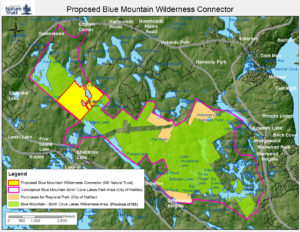 Having already developed a relationship with the Blue Mountain-Birch Cove Lakes area, all of these long-time hikers took notice when the Nature Trust started to pursue the Wilderness Connector property. "Rather than have a small conservation area here, and one over there, and one over there," says Bob, "the connection between protected areas more than doubles the amount of room for wildlife to move around. We want to support the Nature Trust acquiring that property and preserving it in perpetuity not necessarily for us, but for wildlife. It's the habitat which is the thing." Wendy adds, "We see development happening all around. It's closing in on these green spaces, and this prevents that from happening."
Donna believes strongly in the importance of maintaining wilderness areas, especially those that house endangered species. "When I saw that the Nature Trust was working on securing the connector property, I knew that we could not miss that opportunity."
"We're lucky to have so much wilderness area around, and that so much is kept as wilderness," says Allyn. "And when I'm looking for where to donate my usual end of year gift, I always look for a cause that touches my heart." His gift, made in Sandra's memory, will help protect a key part of one of the wildernesses that he and Sandra most loved to explore together.
Saving even more with their donations
All four of these donors have something else in common, too: When they decided to support the Nature Trust's campaign to save the Blue Mountain Wilderness Connector, they decided to do it by donating securities.
"Giving stock is a good opportunity to do something with the money but also reduce your liability for capital gains tax," says Allyn. "I started doing that when I decided to no longer own stock in fossil fuels. If I were to just sell the stock, I'd have a big tax bill. But just giving the fossil fuel stock away was a good option – and the brokers don't charge any fees, either."
"It was purely a tax-saving measure. If you donate shares, you don't even notice it somehow, since it doesn't affect the cash you have on hand yourself, so to speak. I'd rather the Nature Trust have the money than the government! And I'll have a huge charitable deduction this year," says Donna.
Bob and Wendy are amazed that more people don't make their donations this way. "Rather than donating cash money you've already paid tax on, it's especially helpful for people who are on fixed incomes. It's a no-brainer. If you've got the investments to do this, then do it!"
You can read more about the advantages of donating securities on our blog, or you can contact your financial advisor or Barbara [at] nsnt.ca.
You can still help protect Blue Mountain
Thanks to the support of so many donors, including Donna, Allyn, Wendy, and Bob, we have met our minimum fundraising goal to Save the Wild Blue and protect the Blue Mountain Wilderness Connector. Like all properties protected by the Nature Trust, part of our commitment is to actively steward that land in perpetuity. Further donations to our campaign to Save the Wild Blue will help support that stewardship, to help us – and our many volunteers – care for the land so that nature can thrive.
The campaign to Save the Wild Blue is also part of our Twice the Wild campaign, to double the space we protect for nature across Nova Scotia by 2023. That means that every dollar donated – including stock donations! – generates four additional dollars from our generous funding partners. Your tax-free donation will enable next steps for this important "connection" to nature – read more about how you can make a huge impact with your gift.