'Listening Together' for coastal island and bird conservation
31 Aug 2020
How do we best care for and monitor isolated, hard to access places like coastal islands? This is a question we are increasingly facing, as we grow our coastal island conservation lands like with the recent work to protect Peases and Spectacle Islands.
A collaborative, community-based project launched last year is helping us and conservation partners better understand and protect remote coastal island ecosystems by using bioacoustic monitoring technology. Appropriately named, the 'Listening Together' project is engaging community participants and volunteers in employing recording devices called AudioMoths in the field to enhance knowledge of ecosystems and biodiversity through capturing the sounds of nature like bird song.
The project is led by John F. Kearney & Associates—a business committed to social and ecological health of communities.
"I've been working on acoustic monitoring projects since 2008 mainly for environmental assessments for birds at wind farms, but it is a rapidly expanding field and I realized the potential in collecting large amounts of data for wide geographic areas," says John Kearney, 'Listening Together' project lead.
The cost of the acoustic devices has come down substantially and advances in technology have helped to reduce the amount of processing time. This technology can now be put into the hands of naturalists, community groups, and Mi'kmaw communities.
Partners involved include environmental organizations like us, the Nova Scotia Bird Society (NSBS), Acadia First Nation, Confederacy of Mainland Mi'kmaq, academic institutions like Acadia University and Dalhousie University, provincial and federal government, and numerous volunteers.  The project has been made possible through the Kespukwitk Conservation Collaborative and funded through the Canada Nature Fund Southwest Nova Priority Place initiative, with support from Nova Scotia Department of Lands & Forestry.
Although the project is still in early stages, it is already demonstrating great potential for helping to inform conservation and stewardship efforts by providing a baseline understanding of biodiversity in remote places like on coastal islands.
"There are a lot of islands and there is still a lot we need to learn about them," says Kearney.
In June, a team of project volunteers/NSBS members, Alix d'Entremont, Kathleen MacAulay, and Bertin D'Eon, placed AudioMoth devices on two islands in the Tusket region of Southwest Nova (Kespukwitk)—one of which was Spectacle Island. The islands were selected specifically due to the potential for breeding Leach's Storm-Petrels to be found there.
Leach's Storm-Petrels are small, burrow-nesting colonial seabirds who only come to land to nest and raise their young, relying on remote, predator-free islands to do so. They return to their colonies at night, so it is difficult to know if they are there just by visiting an island during the day. They are a species of conservation concern given their numbers are in decline and they are ranked as 'Vulnerable' according to the IUCN Red List. There are many threats to their survival, but invasive and problematic species like rodents on breeding islands can be particularly devastating to the colonies.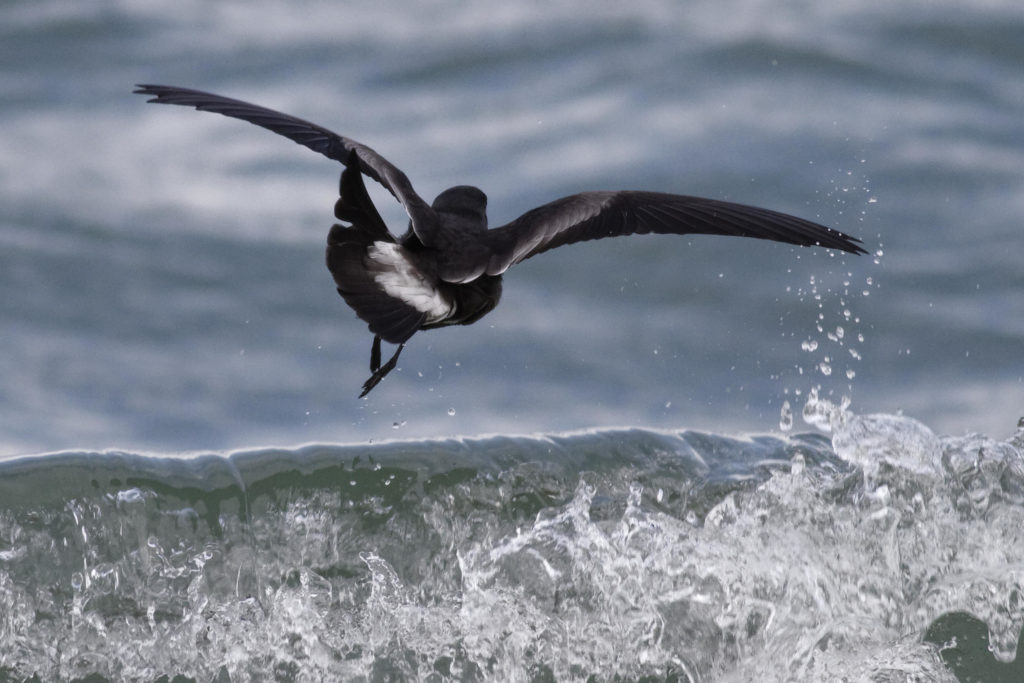 When the team returned in early July to retrieve the devices, they were delighted to hear the unmistakable vocalizations of Leach's Storm-Petrels on the recordings from both islands. These findings are quite exciting, as they provide possible breeding evidence at two new sites in this region of the province.
(Click play to hear an example of a Leach's Storm-Petrel call!)
The initial findings of presence and potential breeding evidence of Leach's Storm-Petrel on the recently protected Spectacle Island not only helps to strengthen the conservation case for it, but it also helps us to plan and better understand how we can monitor and steward the island to support these species of conservation concern into the future. More broadly, it demonstrates an opportunity to use the technology to support monitoring of our conservation lands over the longer term, especially in isolated places like coastal islands.
"Once you preserve a place say like Spectacle Island, you want to know over the long-term, what were the effects of preserving that? Monitoring has to continue to answer this question and acoustic monitoring can support this effort," says Kearney.
The next steps for this component of the project are to continue going through the audio recording data in more detail, as there is a lot of data recorded that needs to be analyzed. There may be even more interesting findings in terms of bird song and biodiversity that could help provide a baseline understanding and inform stewardship aspects of Spectacle Island. Eventually, the team will need to do 'ground-truthing' by getting out on the islands and searching for petrel burrows to confirm their breeding activity.
"This kind of soundscape analysis offer a more holistic understanding of the richness of the environment in a way that is non-intrusive to the wildlife," says Kearney.
In terms of big picture for the 'Listening Together' project, beyond the work being done on identifying potential breeding habitat for colonial seabirds like petrels, it will look at breeding habitat and stop-over habitat on coastal islands for other migratory birds like shorebirds and songbirds, including the nationally threatened and provincially endangered Canada Warbler.  AudioMoth devices will be deployed in other habitats like mature and old-growth Acadian forests and forested wetlands to monitor for birds and other species at risk like bats, while also potentially providing a baseline for monitoring change brought about by invasive species like Hemlock Wooly Adelgid. In coordination with Mi'kmaw partners, the project will also incorporate Two-Eyed Seeing to integrate findings with Mi'kmaw knowledge, culture, and language for an even more holistic understanding of habitat, species and change in Southwest Nova/Kespukwitk.
The Nature Trust will continue to be involved as a partner in 'Listening Together', supporting opportunities to deploy AudioMoths on additional protected and/or prospective lands of conservation interest, investigating ways to integrate Bird's Eye View volunteers into the project, and incorporating project learnings into conservation and stewardship planning like for Spectacle Island.
The Nature Trust graciously thanks partners in the Kespukwitk Conservation Collaborative for helping to advance and inform conservation and stewardship efforts for coastal islands in Southwest Nova Scotia like Spectacle Island. Permanent protection of coastal island and bird habitat would also not be possible without the support of individual donors and foundations, including Maplecross Fund, Donner Canadian Foundation, R. Howard Webster Foundation and the William P. Wharton Trust. For more information about coastal island and bird habitat conservation in Southwest Nova, see here.