At 'Lands' End'
At the extreme southwest of the province, where the Bay of Fundy's dramatic tidal range meets the open Atlantic Ocean, there are numerous coastal islands recognized as being globally significant for the conservation and recovery of a variety of bird life. This focal region extends from Lobster Bay to the Tusket Islands group off Wedgeport down to Cape Sable Island. It falls within Kespukwitk, meaning 'lands' end' and one of the seven traditional districts of Mi'kma'ki.
Here, the Nature Trust has protected over 1000 acres of important coastal island/important bird habitat, alongside other provincially, federally, and privately protected areas.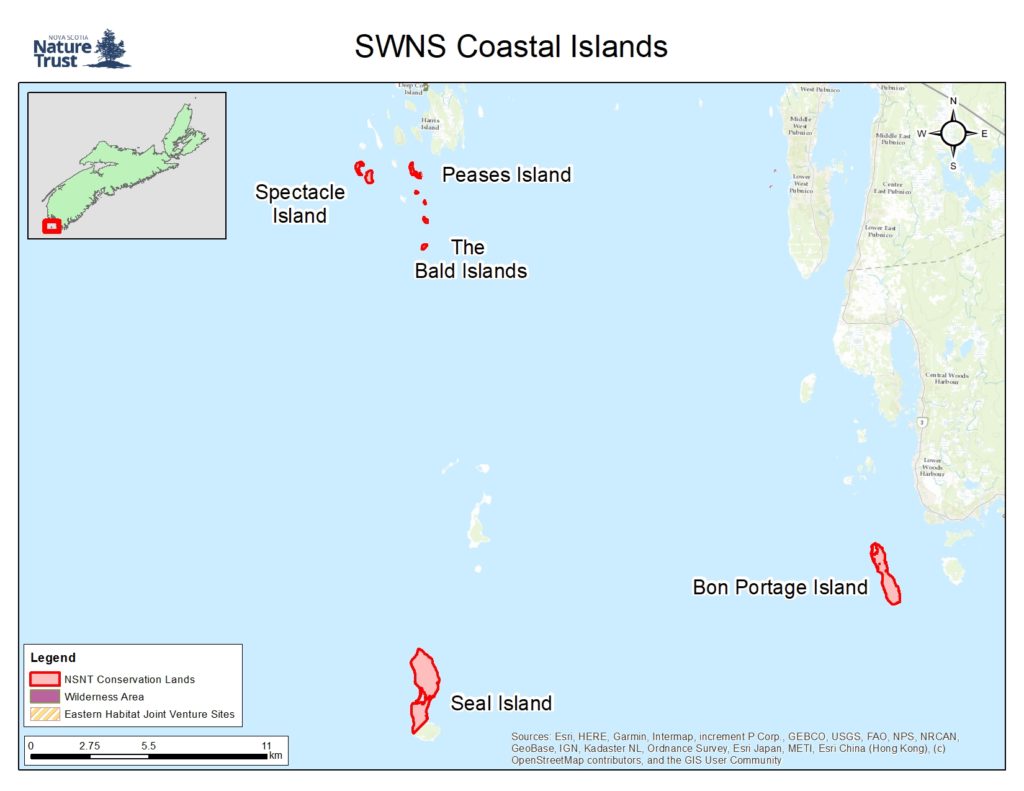 Islands: A growing conservation concern
Islands throughout the world are known for supporting a vast percentage of global biodiversity, yet they are isolated and fragile ecosystems threatened by a variety of pressures like development and invasive species.
Over 85% of coastal land in Nova Scotia is under private ownership, islands included. In Southwest Nova Scotia, around 96% of islands are privately-owned and very few (only ~6% of them) are formally conserved, so targeted private land conservation is essential to advance permanent habitat protection.
For the birds
Protection of islands like these is also increasingly important in the face of alarming declines in bird populations worldwide. The islands are in a strategic location along the Atlantic Flyway migration route, where many birds can rest and replenish before their long and arduous journeys across the Bay of Fundy or Gulf of Maine. Colonial nesting seabirds of conservation concern like Leach's Storm-Petrel, Common Eider, Atlantic Puffin, and even federally endangered Roseate Tern rely on these remote islands to nest and raise their young. In the colder months, numerous other species of conservation concern like Purple Sandpiper and endangered Harlequin Duck also use the islands.
…and, for people too!
Coastal islands have many human well-being benefits, including support for Mi'kmaw coastal culture / connections to oral history, coastal community access and traditions, sheep grazing, research, and recreational uses (Kespukwitk Conservation Collaborative, 2018). They also provide ecosystem service benefits, such as serving as buffers to rougher waters and stormy weather.
Collaboration & stewardship
The formal, permanent protection for coastal island habitats is only the beginning, as there are numerous stewardship considerations that need to be addressed like ongoing monitoring, marine garbage issues, investigating the impacts of invasive and problematic native species on nesting birds on islands, and more.
The work in this region is part of a growing collaborative island conservation initiative we have launched, together with the Canadian Wildlife Service, Nova Scotia Environment, the Department of Lands and Forestry, other members of the Kespukwitk Conservation Collaborative, academic and conservation partners and local community members. We are working together to advance the prioritization of islands for securement, island research, restoration, monitoring and collaborative island stewardship, as well as advancing community engagement in island conservation and stewardship.
Help protect coastal islands
What can you do to help protect coastal islands and critical habitat for our beloved birds?
Donate today to help our coastal island conservation efforts.
Volunteer to help with the long-term monitoring and care of islands in the region (or anywhere across the province!)
Volunteer for our Bird's Eye View program
Thank You to Our Major Supporters
Our thanks to the many generous government and foundation partners, individuals, families and businesses supporting our coastal islands work in Kespukwitk. Special thanks to our major partners: