Jack MacKillop: A Kitchen Table Cape Bretoner
15 Apr 2021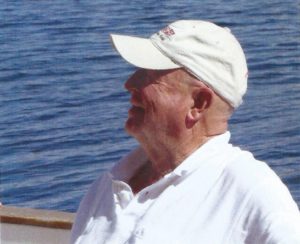 Jack MacKillop was born on his grandmother's kitchen table in January of 1934, in Long Hill just outside Baddeck. Back then, the doctor was able to drive out from Baddeck across the ice to assist at the birth. "I don't think the lake has frozen over like that in 20 years – shows how much our climate has changed," noted Jack.
Jack recently donated his Long Hill property to the Nature Trust, adding to a growing collection of protected lands across the Beinn Bhreagh peninsula, known to many as the home of the Alexander Graham Bell Estate.
"As I recall, my grandfather bought a parcel of land to farm. My grandfather worked as a gardener on the Bell Estate as well as the farm. My mum and dad built a house on the land, next door to my grandparents, which is how I came to be born on their kitchen table!" laughed Jack.
Jack lived all his early life on that property, which is adjacent to the land he recently donated. "Parts of the land had been cleared for farming years before," Jack explained, "But the piece I donated had always been a woodlot and never got developed."
The land eventually went to Jack's uncle Murdoch, who then ran the farm. "I don't have too many fond memories of that farm," said Jack, "At least not the work! But as a youngster I spent a lot of time helping with hay cutting and with the sheep and cow, although I did enjoy driving the horse when we were cutting hay."
"What was a lot more exciting was watching the hydrofoil experiments on the lake," he recalled. "My dad, Jim, was shop foreman for Casey Baldwin and they worked on a hydrofoil project to lay smoke screens close to shore – this was during the war. We would watch their experiments with model boats and scale models."
Given Jack's aversion to farm work, it was ironic that he chose forestry as his profession. He attended the one-room Red Head School to grade 10, and then to Baddeck Academy for grade 11 before attending Forestry school in Fredericton. He spent his career working for the Dept of Lands and Forestry, working along the Eastern Shore until returning to Cape Breton for retirement.
"I always knew I would come home," said Jack, speaking from MacLeod House in Baddeck. "This is where the memories are. And that's part of why I chose to donate my land to the Nature Trust. When you've lived somewhere for so long, it becomes a part of you. I didn't want to see the property developed. I wanted to make sure that parcel of woodland stayed exactly as it was when I was a boy, and I played and climbed amongst those trees."