Mark and Hilary: Leaving your campsite better than you found it
26 May 2022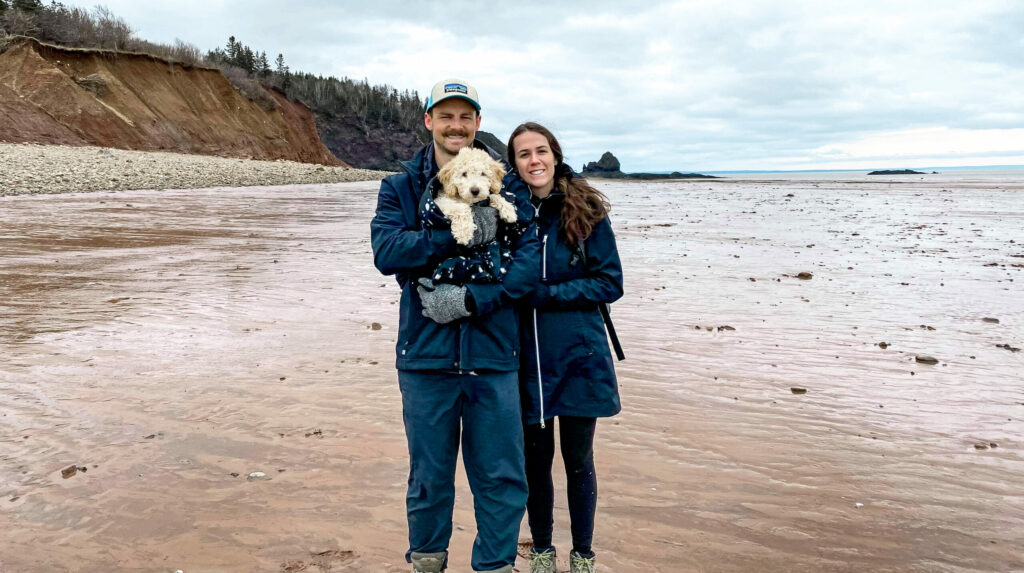 Like many Nova Scotians, being able to access the natural wonders of our province is of the utmost importance to Hilary and Mark Taylor. Self-described as "keen outdoor enthusiasts," their weekends are often spent mountain biking, skiing with friends, or paddling along rivers and lakes across Nova Scotia. They have a strong connection to nature, and preserving the natural areas of our province has become an important priority for them.
"We've been travelling most of our lives and at times we've experienced the impact of climate change first-hand; from coast to coast we've witnessed glaciers that have drastically retreated in a short time and beautiful beaches covered in plastic waste – the time to act in response to the climate crisis is now," says Hilary. "These problems will not be solved by our governments, but instead by us – the people and businesses of Nova Scotia and around the world, and we are taking action."
Hilary and Mark own and operate Make Your Mark Today Inc., a website marketing company based out of Halifax, and have selected the Nova Scotia Nature Trust as the first recipient of their yearly "1% For the Planet" business commitment. They've committed to donating at least one percent of their company's annual revenue to an environmental organization and selected the Nature Trust as this year's recipient.
"The Nature Trust makes it easy for us to support conservation efforts throughout the province. We love that we can donate without any fuss or financial planning on our part – supporting conservation is simple, and it's simple actions like this that will help improve our beautiful province," says Hilary. "We love paddling out to the 100 Wild Islands along the Eastern Shore, which is home to one of the last intact island archipelagos on the East Coast. The protection of this area is extremely important to us, and for our future children."
Hilary and Mark are always looking for ways to spend more time outdoors. They live an active lifestyle and volunteer with several non-profits working to improve our natural environments and communities. They apply the classic camper's motto "Leave your site better than you left it" into both their personal everyday lives and their company. "It's not just about growing for the sake of money, but rather ensuring that we leave our mark on the world by making it a better place to live."
Please join us in thanking our donors of the month, Hilary and Mark Taylor, for their ongoing commitment to preserving the natural areas of our province and continued support for the Nova Scotia Nature Trust.