Lisa Isaacman—Making a Difference by Donating Monthly
31 May 2018
By Andrew Robinson, Nature Trust Volunteer Writer
"If you love nature, you love Nova Scotia and you want to make sure our special places remain for generations to come, you should donate to the Nova Scotia Nature Trust."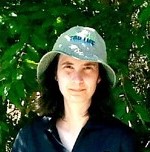 Lisa is from Toronto and first discovered Nova Scotia as a student at Dalhousie. She fell in love with the natural beauty of the Province – so different to the fragmented pockets of nature she knew from her hometown. Soon, Lisa was volunteering with the Nature Trust, and when she moved away with work and was unable to live in Nova Scotia, she began to donate monthly.
"The work of the Nature Trust is vitally important in Nova Scotia, because so much land is in private ownership and out of reach of traditional agencies," she says. "I am so inspired by the Nature Trust. For a small organization they punch far above their weight. The conservation and education achievements they have are remarkable."
Lisa believes that the work the Nature Trust does with landowners to encourage them to steward their own land is another example of the smart strategy of the Nature Trust. "We can't buy all the land – we have to encourage landowners to steward their own property. The Nature Trust does a really good job here also."
Lisa has travelled extensively in Nova Scotia and she loves the whole province, but she does have some special favourites, including the Cape Breton Highlands, Bras d'Or lakes, the Bay of Fundy and the beautiful and remote Briar Island. "My heart is here," she says. "I chose to donate monthly because I want to make a difference, and monthly donations are convenient because they happen automatically. They also allow me to split my contribution into smaller, manageable amounts, rather than one lump sum. This way I know I can contribute more than if I tried to donate a lump sum maybe twice a year."
Make you connection with the Nature Trust as our latest Monthly Donor. Signing up is easy, and you can change your contribution at any time. To find out more, visit our Monthly Giving page.