Unique Bequest for Nature
02 Oct 2020
A go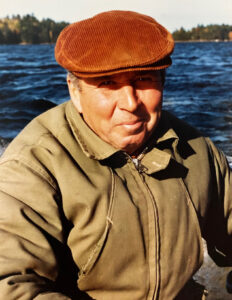 rgeous, huge, hand-carved and painted zebra.
Cacti touching the roof.
A unique home on an ocean cliff, crafted by hand.
What do these disparate things have to do with the Nature Trust?
Victor "Ray" Titterington.
Born in England in 1928, with a move to Ontario at the age of just one, Ray remembered loving nature as a child. Some of his happiest early recollections were of being outdoors—swimming, skating, fishing, and boating. Many years later, when the time came to make a will, Ray generously decided to leave his entire estate—of cacti, carvings, clocks, and a hand-crafted ocean-side home—to the Nova Scotia Nature Trust to advance the mission of saving Nova Scotia's natural legacy.
In this way, Ray's own legacy will live on forever–in pristine rivers, forests, barrens, meadows, bogs and coastline protected forever because of him.
As he grew into adulthood after the Second World War, Ray trained to become a tool and die maker. By 1952, Ray was – in his own words – "bitten by the travel bug", leading to a lifetime of traveling to many countries around the world. He discovered, at age 36, that the entrepreneurial life was what worked best for him, becoming his own boss, or as he liked to say, happily "retired" from working in someone else's employ.
All of these experiences influenced Ray's ultimate move to Nova Scotia about 25 years ago.  From his tree-filled property on the North Atlantic coast, Ray set out to build a replica of his Ontario home.  He crafted wooden floors and doors piece by piece to create an artistic marquetry pattern, embellished bookshelves with fanciful decorative carved horses galloping across the top, and filled an atrium with a wide range of cacti – some of which grew so huge they touched the glass-topped ceiling.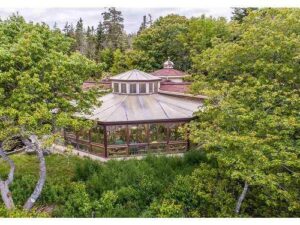 The heart of Ray's home was this greenhouse and his large workshop. He would sit and work in his greenhouse each day, opening windows manually and caring for his cacti. The immense workshop, filled with every tool imaginable, is the first room you walk into when you arrive at his home. It was also obviously a place where he spent much of his time creating his fanciful and beautifully crafted carvings—some so small they fit in your hand and some so huge they stand as tall as a person. He crafted clocks too, and built a large outdoor pool filled with water lilies. Take a virtual tour of his whimsical home.
Ray did all of this.  Quietly.  Methodically.  But with pride and precision that is evident to this day.
At the same time, he quietly made a decision about the kind of legacy he wished to leave behind.  Ray chose to dedicate his entire estate to supporting our organization and our mission of protecting Nova Scotia's natural legacy.
Please help to spread the word about this amazing property! If you or someone you know might be interested, the details can be found in the real estate listing.
If you too would like to make a bequest to the Nova Scotia Nature Trust, to create an incredible natural legacy that will live forever in your name, please ensure you reach out to us to discuss your wishes. We will also be able to provide you with wording for a will, and guidance on ensuring your bequest has the maximum impact on saving Nova Scotia's wild places. Contact us at (902) 425-5263 or visit https://nsnt.ca/giving/leave-a-legacy/ for more information on legacy gifts.