Ed Sulis: Work Hard, Have Success, Enjoy
28 Oct 2021
Our Volunteer of the Month, Ed Sulis, is a self-taught forest enthusiast and invasive species adversary who helps steward Nature Trust properties and other natural areas on land and by sea!
Ed grew up in Digby and returned to Nova Scotia in 2000 after a thirty-three-year mining career in Northern Ontario. While the move was precipitated by a wish to have space for a larger sailboat, the 3.5 acre woodlot attached to the Kentville house he and his wife bought was the starting point for what has become a twenty-year passion for nature.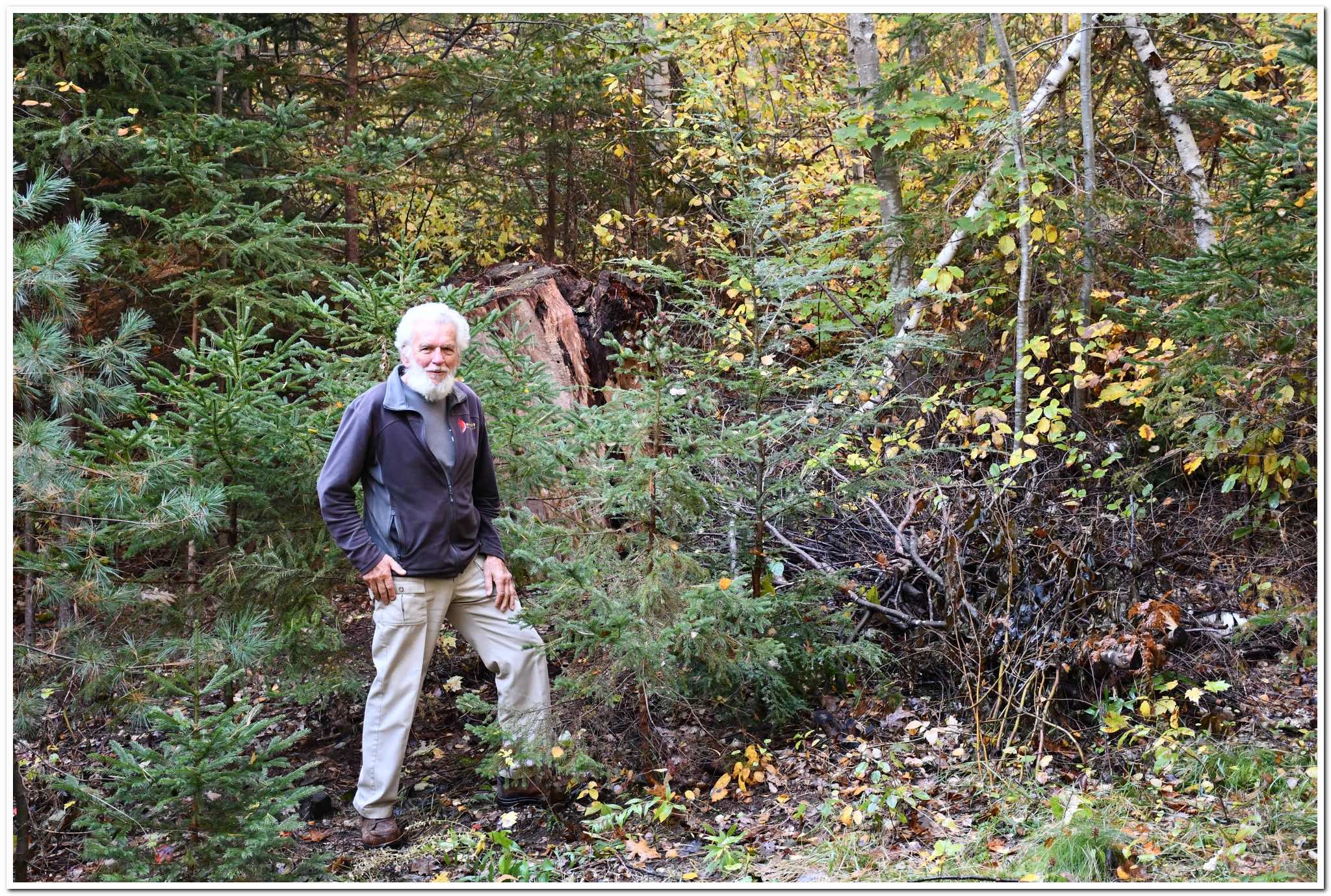 The property in Kentville includes a ravine with a locally-beloved swimming hole. Ed explains, "I wanted very much to maintain the swimming hole for visitors in the summer," and he took a particular interest in the trees and their place within the unique ecology of the Acadian forest. "Every tree in this province is meaningful, particularly if they're left standing. We must respect the fact that these trees are habitat for birds and animals and eventually us. I suppose that's where my passion comes from – to do what I can to protect trees."
As part of that process, Ed has dedicated himself to learning about invasive species and how to remove them. "There's a lot of satisfaction in clearing out invasives in a woodlot or along any trail that people wish to use," he explains. "My background is in mechanical and electrical engineering, and my working life was in mining, nothing to do with trees. So this is just experience over time, based on my interest in trees and everything that lives therein."
The several hours Ed spends every day caring for the trees and trails on his own property, including a 33-acre woodlot he has since acquired for protection from clearcutting, are only part of his extensive volunteer work. He regularly sails around the many islands in Mahone Bay, doing spontaneous beach clean-ups everywhere he lands. "I walk the coastline with a garbage bag, and I don't care which island it is, it's just important to pick up that plastic garbage that collects on our seashores."
One of those islands is Little Gooseberry Island, protected by the Nature Trust, where in addition to beach clean-ups he also conducts at least 3 on-island inspections and a dozen sail-by check-ins each year as an official Property Guardian. Little Gooseberry attracts picnickers and other visitors, and Ed always takes the opportunity to talk to the people using the beach. "It's always very positive," he emphasizes. "When people understand that there is someone monitoring that area, and they see you with your garbage bag, they suddenly start picking up their garbage instead of just leaving it. People appreciate understanding that there is some oversight. I find that the garbage bag is often the best introduction!"
Ed also shares his learnings and recommendations regarding invasive species with the Nature Trust and other interested partners, regularly sending information packets detailing his battles against buckthorn and notes about Norway Maple. "You free these saplings – the white pine, the hemlock, the hard (or, sugar) maple – from their overgrown area, and then you watch those trees for four or five years. Seeing them go from half a meter to four or five meters, that is true satisfaction."
Ed's dedication and consistency make a big difference to the lands he stewards, and to all of the other places that benefit from his invasive species expertise. "It's not tiring!" he insists. "It becomes very much a part of your daily routine. And in this day and age, with climate change and Covid, it frees up the mind – all that stuff disappears and you get to know every tree."
His latest buckthorn report includes the advice to "Work Hard, Have Success, Enjoy." Ed himself is a wonderful example of these wise words – please join us in celebrating his incredible dedication!