Stewart Lindsay: First Guardian of the Land from the United States
22 Aug 2021
With a growing number of supporters choosing to join our Guardians of the Land donor group, we are thrilled to announce that our first donor from the United States is now on board.
Although Stewart Lindsay is usually to be found in Connecticut during the winter, he and his family have been spending summers (June to Labour Day) in Nova Scotia for most of his life, and he considers himself to be as much Nova Scotian as American.
His connection here dates back to 1907 when his grandfather came to Chester from Baltimore and eventually bought Little Gooseberry Island. His parents set up a Boy's Camp there in 1935 and hosted about 18 campers a year for many years, other than during the war. They built a number of log cabins, although only 2 buildings now remain.
Five daughters arrived after Stewart married Mary Desborough (whose family was from Chester and the Annapolis Valley) in 1956, and the entire family would travel to Nova Scotia and spend their summers in one cabin on Little Gooseberry—enjoying the natural beauty of the island. Over time, grandchildren arrived and they too learned to love nature through their time on Little Gooseberry, with one grandchild even volunteering with the Nature Trust and another studying environmental science. Several became Canadian citizens and went to local universities. And like Stewart and his father, four out of five daughters became teachers—they used to joke that this was so they would always be able to have summers off to spend the time on Little Gooseberry.
Long before making the decision to join our donor group called the 'Guardians of the Land', Stewart worried about protecting Little Gooseberry. He says, "I watched many properties around Little Gooseberry being stripped of all natural vegetation and having large mansions built." Stewart decided to protect the natural values of his island forever by working with the Nature Trust to put an easement on the property in 2009. (A conservation easement is a permanent, legal agreement made between a landowners and the Nature Trust, and added to a property title. It enables people to protect their land while still retaining private ownership.)
As well, Stewart added the Nature Trust to his will.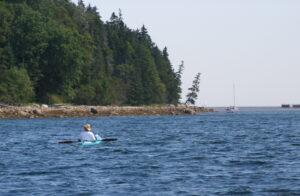 But he still felt he wanted to do more to save and protect nature. He loved that the Nature Trust's land protection also directly benefits the many species that depend on this land for their habitat, like Blandings Turtles. So he decided become a 'Guardian of the Land': a donor who commits a significant multi-year pledge of unrestricted funds. This fundamental level of support enables the Nature Trust to plan for the future and to guarantee the sustainability of the conservation work we do.
Stewart noted, "Saving nature was something I wanted to do and the Nature Trust provided me with the opportunity to make that happen."
To find out more about becoming a Guardian of the Land, please contact Barbara Haley at Barbara@nsnt.ca.