Alix d'Entremont : Property Guardian & Bird's Eye View Volunteer
23 Apr 2020
Andrew Robinson, Nature Trust Volunteer Writer, recently connected with long-time volunteer and serious bird enthusiast Alix d'Entremont to talk about the serendipitous alignment of his passion for birding and Nature Trust volunteering.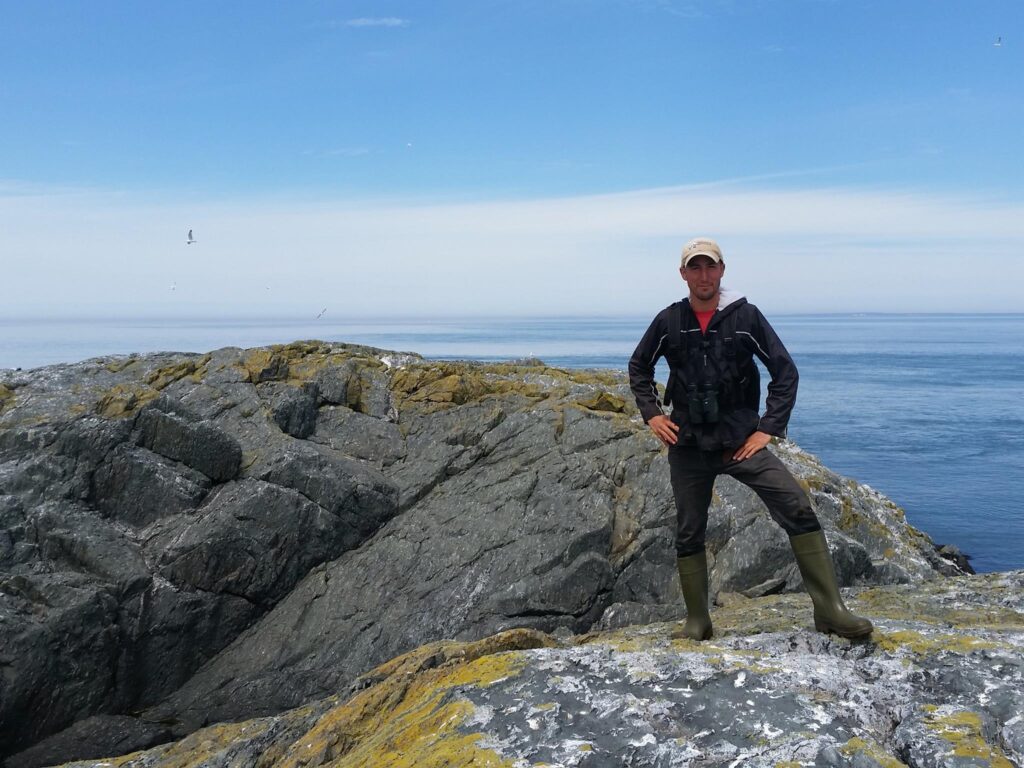 Hi Alix, thanks for taking the time to connect. I'm always interested to hear how people first discovered the Nature Trust, and how they choose to volunteer.
Well, I was first introduced to the Nature Trust through the Bird's Eye View program in 2013 when I volunteered to do bird surveys on several islands in Argyle, Yarmouth County.
I am from Middle West Pubnico in Yarmouth County, and the sea has always been an important part of my life. In fact, when the fog rolls in, I can hear the Whitehead Island foghorn from my home. I had recently bought a Zodiac when I heard about the Bird's Eye View program, so I was excited to be able to use the boat to provide census data to inform conservation decisions by the Nature Trust.
I later became Property Guardian for the Bald Islands and I have shared my observations on a number of potential conservation islands in the southwest. I'm most grateful the Nature Trust is protecting Peases Island, my favourite of all the Tusket Islands and likely one of the most important islands for migrant shorebirds in the region.
What is it that draws you to nature?
I would say my formative experiences were as a teenager when I assisted Ted d'Eon with Roseate Tern and Northern Gannet projects on North Brother Island and Gannet Rock. I am forever grateful to Ted for the rare opportunity that I had to be part of these two initiatives. While gannets have never returned to nest despite our efforts, North Brother Island continues to host the largest colony of Roseate Terns in Canada.
Outside of work, my world is virtually nothing but birds. I'm editor for Nova Scotia Birds, the Nova Scotia Bird Society's quarterly magazine, and I am a member of the society's board. I am also part of the Roseate Tern recovery team, and I have been surveying islands for terns with a focus on Roseates since 2016. I've worked on colonial seabird surveys for Environment Canada and Université Sainte-Anne. I volunteer for the Breeding Bird Survey, Nocturnal Owl Survey and am the coordinator for the Yarmouth Christmas Bird Count.
I am definitely at my happiest when I am on my boat, hopping from island to island to gather information on our breeding and migrant birds.
What would you say to someone looking for a volunteer opportunity?
I'd say if you have a passion for the natural world, then volunteering for the Nature Trust is an excellent way to enjoy your pursuit while making a substantial positive impact on the sustainability of our wild places.
Each and every one of us can contribute to the preservation of the variety of life that surrounds us. You don't need a PhD in botany or to volunteer for hundreds of hours to make a difference. All of our actions, even the small ones, are important. Sharing photos of your chickadees and cardinals to Facebook, submitting eBird checklists, getting a plant identified through iNaturalist, or *carefully* helping a snapping turtle cross the road, are important. The more we know what is out there, the better prepared we are to protect it.