Adopt an Acre of Forest - $500.00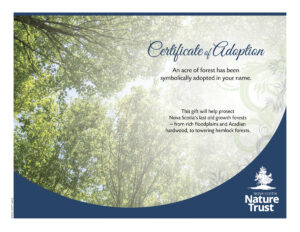 Help protect Nova Scotia's last old forests – from rich floodplains and Acadian hardwood, to towering hemlock forests. When you adopt an acre of forest, you help ensure that our forests continue to provide enjoyment for people and habitat for thousands of species of plants and animals.
All Gifts of Nature are FULLY ELECTRONIC—you will receive a link to all elements of the gift via email as soon as you make your donation. On behalf of the forest you are supporting, thank you for helping us make these gifts as zero-waste as possible!
Tax receipt for the FULL value of your gift (link to your tax receipt emailed immediately)
Official Adoption Certificate (link to a Certificate emailed to you immediately)
Introductory Letter highlighting the conservation work supported by your gift (link to a Letter emailed to you immediately)
Instructions on how to complete the "fillable" Certificate (link to instructions emailed immediately)
If you do not receive an email with the links to your Gift of Nature immediately after completing your donation, please check your "spam" folder and/or contact Cynthia@nsnt.ca for assistance.