The Tusket Islands Legacy: One Family's Story
28 Aug 2020
By Andy Robinson, Nature Trust volunteer Storyteller
To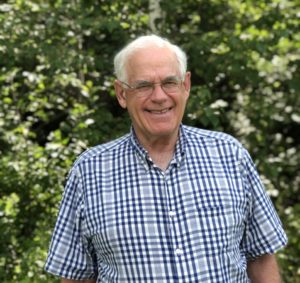 day, the Nova Scotia Nature Trust is working to create a protected area for migratory, nesting and overwintering birds in the Tusket Islands, a wild and remote archipelago sitting off the southern tip of Nova Scotia. But these islands all have human stories too, which form part of the lore of this region, some ancient, some more modern.
Dick Henry recently agreed to sell Peases Island and Spectacle Island to the Nature Trust to ensure their permanent protection. This is his story.
Almost 100 years ago, a sixteen year-old waitress from Wedgeport and a five year-old girl from New York City, set in motion a chain of events that would lead today to the permanent protection of two more islands of the Tusket chain, so vitally important to migratory birds.
May LeBlanc was a waitress at a sporting camp in the Meteghan area, on a lake in Digby County, Nova Scotia. Young Marie Curnen was vacationing with her parents for the summer season of trout fishing. Marie and May became great friends that summer, so much so that Marie's parents asked May if she would like to return to New York and work for them. And so, the family climbed aboard their Packard and drove the 60km of dirt roads to Wedgeport, where they met May's parents and asked their permission to employ their daughter at their home in New York.
May worked for the Curnen family in New York for a dozen years, and every summer she would return home to visit her parents in Wedgeport. When Marie was a teenager, she was allowed to accompany May on her visit home. Marie went every year thereafter, falling in love with Wedgeport and the families she got to know there. After decades working with various employers in New York, May herself returned home to Wedgeport later in life to care for her aging parents. "Auntie May" remained close to all the Henry family until her death in 2010, at 102 years of age.
Years passed and Marie went off to college where she met David Henry and they fell in love. Their wedding day was rushed forward when Japanese warplanes attacked Pearl Harbour in December 1941. Almost a year later, shortly after the birth of their first child, Meg, David left for the Pacific as a Naval Officer.
After the war, the couple returned to Wedgeport often, and in 1947 they bought land from another American family in Wedgeport who summered next door.
Every year Marie spent the three summer months in Wedgeport with her daughter Meg and son Dick (born in 1947). The family would make the long drive up from Boston to Saint John, take the overnight ferry to Digby, and then drive some of those same roads to Wedgeport that the family had first travelled in 1924. David Henry would then join the family for his two-week vacation in June and July each year.
Marie had always loved the outdoors and during those long summers in Wedgeport she developed her keen interest in birding. Israel Pothier, an excellent ornithologist from Wedgeport, suggested she could help to protect the local seabirds by doing research on their migratory patterns by banding chicks and adults on the Tusket islands.  So, each June the Henry family would hire a lobster fisherman to take them and their children out to find tern, petrel, and guillemot nests and band their chicks and where possible adults. Meg vividly remembers learning how to dodge the dive-bombing adult terns and was particularly proud of being able with her smaller hands to reach deep into petrel's tunnel nests in sandbanks to bring out the fluffy grey chicks.
There were great moments in the winter too, when "return reports" came in of birds in other parts of the world that had been found with their bands on them. Their biggest thrill was an arctic tern found in South Africa!
Marie and David immigrated to Canada in 1970 and continued to regularly travel all over the Tusket islands as well as taking many canoe trips inland to the lakes. In 1977, Marie passed away from cancer at the age of 57. She and David had been active members of the Nova Scotia Bird Society and after her death the society purchased several of the Tusket islands and named the newly formed sanctuary in her memory. Her love of birds and of the islands passed on to the next generations.
Dick Henry and his family continued to visit Wedgeport annually, spending every summer in the old family home. In the late 1980's Peases and Spectacle Islands came up for sale. At that time there was strong foreign interest in the islands and little protection, so Dick decided to buy the islands to preserve them in his mother's memory. He, his wife, Sarah, and children, Mac and David, would sail out to those islands, camp for a few days then head back to Wedgeport.
Dick became fascinated with the history of sheep husbandry on the islands. For over 300 years, farmers would pasture sheep on the rugged lands. Grazing was always plentiful in the damp, foggy climate, as the island climate is often milder than inland Nova Scotia. He decided to try his hand, so he purchased some Wedgeport island sheep and shipped them out to an island in Maine where they are still grazing peacefully. At that time in the 1970's,  30 to 40 Tusket island sheep would yield around 25 lambs annually, though today increased predation from coyotes swimming between the islands has made island sheep farming more difficult.
The peace and solitude of the islands rest easy with Dick. They have been part of his life since his birth, so when it came to marking his 70th birthday he chose to visit the islands once more with his extended family. With that landmark event, Dick began to consider the long term future of the islands. The Nature Trust had contacted him as part of their outreach program for owners of priority conservation lands across the province, offering Dick an opportunity to conserve these islands in perpetuity.
Dick and his family had been searching for ways to safeguard these islands. With the Nature Trust's strong and expanding base of conservation lands in the area, he felt it would be the perfect partner. After 30 years of stewarding the islands, Dick and his family are grateful to be able to entrust the islands to the Nature Trust and to know the islands will always be there, as a safe refuge for both breeding and migratory birds.
Transferring Peases and Spectacle Islands to the Trust
is a fitting tribute to Dick's parents, to his family's love of the islands and birds, and to this extraordinary part of Nova Scotia. Equally important, this transfer is a tribute to the Wedgeport community which has a long history of managing and valuing these special islands and has been so welcoming to five generations of the Henry family.  They feel privileged to play a small part in protecting these islands for future generations.
Read more about the islands that are now protected, forever, thanks to Dick and his family.