Rene Scrutton: Endowing a Lasting Legacy in Dad's Name
31 Mar 2020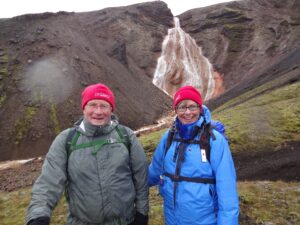 by Andrew Robinson, Nature Trust Volunteer Writer
Rene Scrutton was looking for a way to honour her dad, Laurie Rhydwen, following his passing. She knew she wanted to use her inheritance to support the Nature Trust, but the right opportunity evaded her until she attended an Estate Planning/Tax Reduction Workshop organized by the Nature Trust and led by Glenn Stewardson CFP, FMA. This is where she first heard about the Nature Trust Stewardship Endowment Fund. With her interest piqued, she called Barbara Haley, Nova Scotia Nature Trust's Philanthropy Director, to find out more.
Barbara explained that the Nature Trust endowment funds provide an opportunity to create a truly lasting natural legacy. Because the amount donated to an endowment fund remains untouched, and only some of the income is withdrawn each year, donations to our endowments will last forever. In fact, over time the gift will actually increase its impact as the maximum withdrawal amount for our endowments is set at a level to preserve the capital and allow for growth.
Barbara explained further: "We commit to protecting our Conservation Lands in perpetuity, and our endowments are an effective and sustainable way to ensure this promise is fulfilled, providing the Nature Trust with a secure 'forever' funding stream. A gift to an endowment fund will go on having a larger and larger impact on land conservation, in perpetuity."
"And that's what I really like," added Rene, "I know that Dad's money will continue to support the Nature Trust, year after year, forever."
Rene has been a keen supporter of the Nature Trust for around 20 years. Her initial involvement was in large part thanks to good friends Jack and Darlene Stone. She recalls that the guest speaker at the first Dinner she attended was Justin Trudeau – before his Prime Ministerial fame!
Rene is still a regular at the Annual Dinner and Auction, and together with husband Ted, she joined two Expedition for the Earth adventures, first to Patagonia in 2013, and then to Iceland in 2016. "Both were absolutely amazing experiences," recalls Rene, "But I would have to choose Iceland as my favourite."
Just recently she and Ted anticipated their upcoming 50th wedding anniversary with a trip of a lifetime to the Galapagos Islands. "Such an amazing place," she recalls. "Giant Tortoise walk along the road, sea lions wander through the fish market looking for treats before stretching out for naps on the park benches, and iguanas bask on rocks and sidewalks."
Rene admits that travel is her bug, not Ted's, so she was very grateful that he agreed to the Galapagos Island trip. In other years, she has taken hiking trips with a group of friends, exploring Croatia, Montenegro and Italy amongst others.
"Ted is happiest on our farm in Kennetcook, where our daughter and granddaughter live," she admits. "Our son is across the country in Vancouver."
Rene gives thanks to Bob Couchman for her love of nature, and her eventual career choice as a teacher. "We grew up in Scarborough, Ontario, and Bob, or Mr. Couchman I suppose, was my elementary school teacher in grades 5 to 7 at Ionview Elementary. Bob was an absolutely wonderful teacher, far ahead of his time, and he inspired my love of nature through the weekend hikes he led for the kids in his class. When I chose teaching as my career, I do believe I was inspired by Bob and I hope, in turn, I have inspired the next generations of nature lovers."
"I'm so pleased I discovered the Nature Trust endowment funds," said Rene. "I can see every day how Dad's legacy is supporting the vital work of the Nature Trust, helping in ways large and small to preserve the wild places of our beautiful province."
Donations to endowments create a lasting legacy. If you would like to find out more, visit our Endowments page or email Barbara Haley or call her at 902-425-5263.