The Nature Trust commits to protecting our Conservation Lands in perpetuity. Endowment funds help us fulfill on this promise, as they provide a 'forever' stream of income. As well, they provide the perfect way for supporters to create an enduring natural legacy.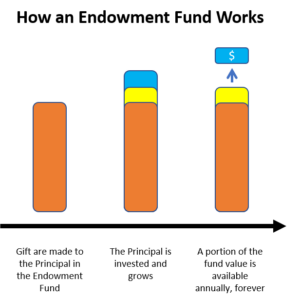 Investing in our endowment funds offers the perfect solution to enable you to create a truly lasting legacy. The capital amount you donate to an endowment fund remains untouched, and only a percentage of the income is withdrawn each year. This means that the your initial donation will never be exhausted.
Your gift to an endowment will continue to provide a steady stream of income to save and steward land, and enable the work of the organization to continue.  In fact, over time it will actually increase its impact, because Fund rules set maximum withdrawal amounts at a level to preserve the capital and allow for growth.
And contrary to popular belief, there is no 'minimum' to an endowment gift. A donation of any size can be made to our endowments to start building your natural legacy. However much you are able to give, your gift to an endowment fund will have a greater and greater impact on land conservation, in perpetuity.
Our Endowment Fund Options
An endowment is a pool of donations that are then invested to provide returns or ongoing income to the Nature Trust. The Nature Trust has two endowment funds. We have our Stewardship Endowment Fund and our Operating Endowment Fund.
The Stewardship Endowment Fund provides funds to support stewardship activities, ensuring we can forever care and steward all the wonderful and iconic lands we protect.
The Operating Endowment Fund will ensure the Nature Trust itself continues to thrive, by providing funding towards the ongoing operations of the Nature Trust.
For any donation inquiries at all, please contact:
Barbara Haley, Leadership and Legacy Giving Senior Advisor
Email: barbara@nsnt.ca
Phone: 902-425-5263 Toll-free: 1-877-434-5263