La Grande Île—New Conservation Lands a Double Win for Conservation
20 Jun 2018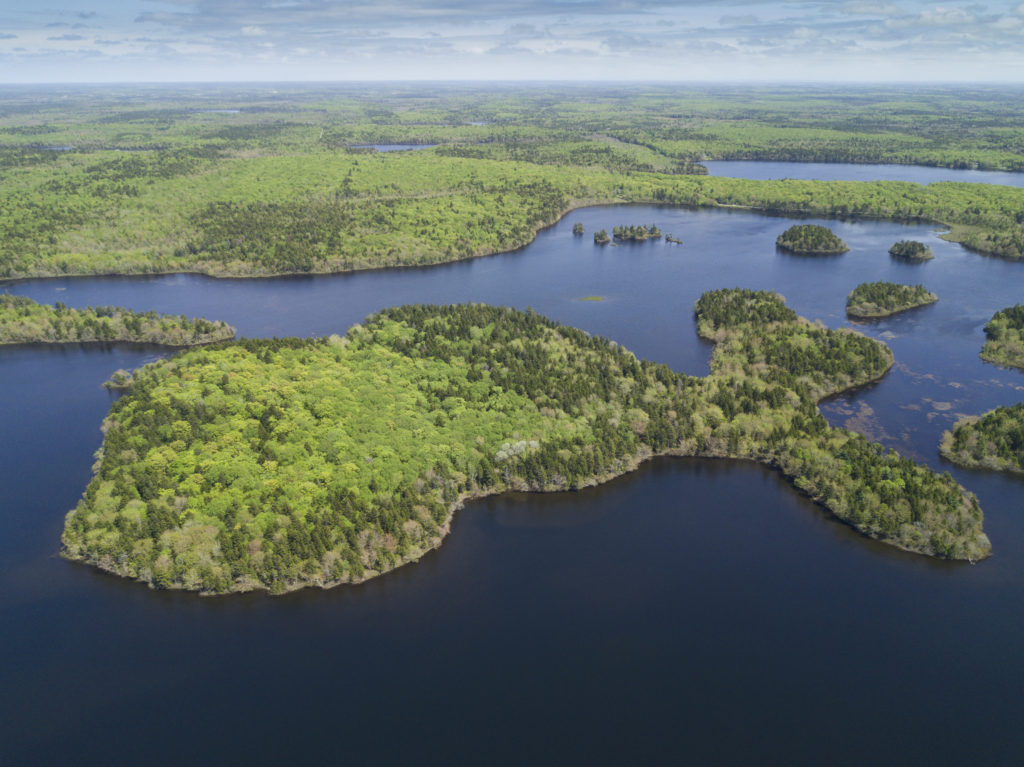 We are delighted to announce new Nature Trust conservation lands, protecting a nationally imperilled plant species found nowhere else in Canada.  The Digby County property, generously donated by Mary Guptill and Delbé Comeau, is one of only two protected habitats for Sweet Pepperbush in Canada.  The announcement marks a significant step towards recovery for this threatened species.
The 44 acre land donation encompasses almost an entire island on Belliveau Lake. Its protection provides a double win for conservation.   The scenic shoreline supports extensive habitat for Sweet Pepperbush.  The towering forests are rich and diverse, well on their way to becoming Acadian old growth forests, a rarity in Nova Scotia. The conservation lands will help both the rare plants and unique forests to thrive.
Sweet Pepperbush is listed as "threatened" on Canada's endangered species list, making efforts to protect the species and its habitat critical in preventing species extinction. While historically more widely distributed throughout eastern North America, Sweet Pepperbush is now restricted to small pockets within this range.
Within Canada, it is found only on six Nova Scotian lakes, with a significant population on Belliveau Lake.  Thriving at the northern limit of the species' global range, the unique Nova Scotian population may be critical to the species' survival as climate change advances.
Protecting its habitat is particularly significant where increasing habitat fragmentation and cottage development threaten all remaining sites. Louis Lake, part of the Tusket River Wilderness Area, provides the only other protected habitat in Canada.
Mary has a strong personal connection to the island, spending many days and nights exploring and camping there, enjoying the natural splendour, the peace and quiet.   Her interest in protecting the island was peaked when she learned from a friend that it hosts the rare Sweet Pepperbush.
A forester by profession, she was also inspired by the islands' beautiful and diverse Acadian forests. The rich soils, species composition and structure of the island's forests suggest that they are well on the way to become old growth Acadian forests.  Less than 1% of Nova Scotia's forests are old growth.
"The island supports a delightful and complex mixture of softwood and hardwood species of various ages.  On the forest floor there is enough light to allow many of the native annuals and perennials which make our woods so interesting.  Without vehicle or foot traffic, the soils are saved from compaction and the most delicate plants can grow unimpeded," she noted.
With both the rare plants and unique forests as inspiration, Mary devoted herself to protecting the entire island. This was a significant task, especially given its highly fragmented landownership. She began her quest in the early 1980's. She reached out to every landowner on the island, sharing her vision of amalgamating all the parcels to protect the rare plants and unique forests for conservation. Mary has now successfully acquired over 90% of the island and expressed her gratitude to all the landowners for their trust and support while she worked to fulfil her conservation vision (*see acknowledgement below).  Her wish is to see the island remain wild, in perpetuity, its shorelines undeveloped and forests left to thrive.
Mary was aware of the Nature Trust through our long-standing educational outreach program for owners of high priority conservation lands in the province. She needed a steward for the lands, an organization who could ensure this ecological oasis and the species it supports will be protected, forever. She and Delbé entrusted the lands to the Nature Trust, through a generation donation.  The lands are now part of our network of over 90 conservation lands, and 11,000 acres protected across the province.
The island does not appear to have an official name, so Mary suggested the French name, La Grande Île, for our new conservation lands, in recognition of long-standing Acadian presence in the area.
Asked about her decision to protect the island, Mary noted, "I believe we must all tread more lightly, and do our part. My project has been to protect La Grande Île, to preserve its unique plants and forests.  I feel tremendous relief knowing this special place is now in safe hands, entrusted to the care of the Nova Scotia Nature Trust."
With only one other protected site for Sweet Pepperbush in Canada, and other remaining habitat threatened by cottage development, this achievement is big news for recovery and conservation of a species at risk of extinction.  The new protected area also helps to advance Canada's international commitments to protecting the planet's biodiversity.  Private land conservation is recognized as being critical to achieve Canada Target 1, protecting 17% of Canada's terrestrial areas by 2020.
Where many of our most unique and important natural areas are privately owned, the success or failure of biodiversity conservation in Nova Scotia depends largely on protecting nature on private land.
Landowners like Mary Guptill, so dedicated to seeing the best of our biodiversity protected, are leading the way and inspiring others to follow in their footsteps.
Our deepest thanks to Mary Guptill and Delbé Comeau for this incredibly generous and significant gift of nature.
Thank you as well, to all our supporters, conservation partners and volunteers for making this conservation success possible.
Special thanks to our major endangered species funding partners:  Environment and Climate Change Canada (Habitat Stewardship Program), Marguerite Hubbard Charitable Trust, Nova Scotia Crown Share Land Legacy Trust, and the Sage Environment Program.
Tax-deductible charitable donations to support this and other important conservation efforts can be made here, or by calling our friendly staff at (902) 425-5263.
If you would like to volunteer to help in stewarding and caring for La Grande Île or other Nature Trust Conservation Lands, we would love to have you join our Property Guardians team!