Jacqui Reeves: Tending Nature's Garden
30 Aug 2021
With everything that's happened over the past year (events moved online, staff working primarily from home, etc.), the garden of our downtown Dartmouth office, Nature's House, has grown quite wild – a bit more wild than we intended! Fortunately, having volunteered with the original planting process, our Volunteer of the Month Jacqui Reeves was well equipped to help out with some expert gardening care.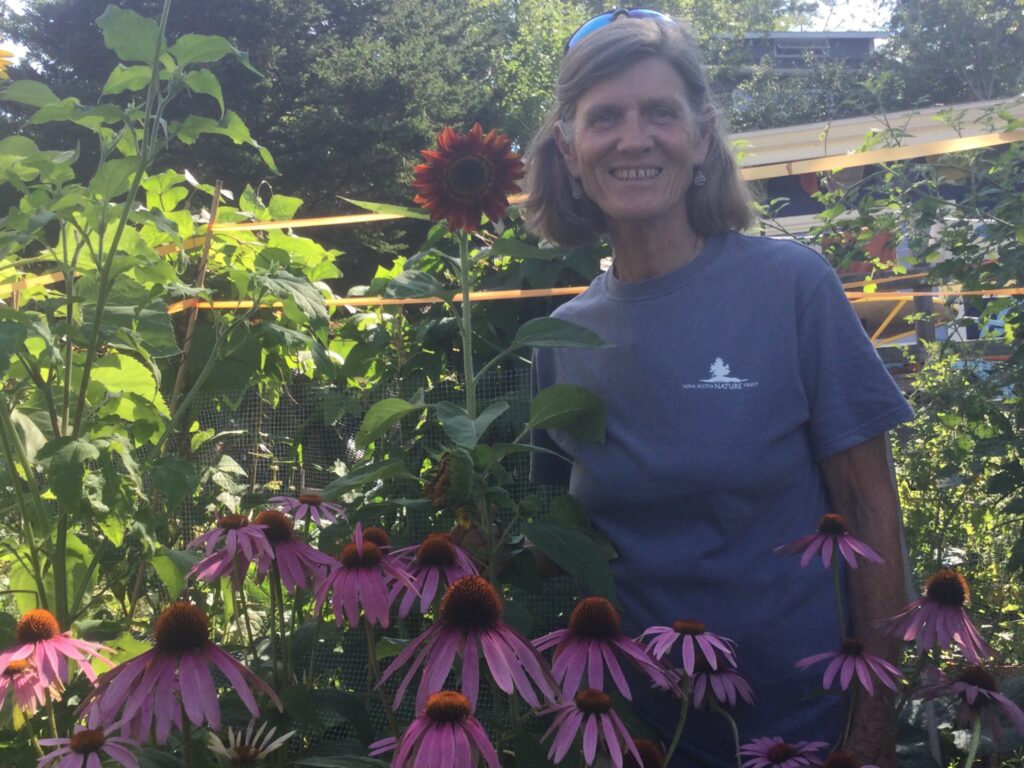 Jacqui has always been a gardener – she estimates that she's gardened or farmed for between forty and fifty years, in every place she's lived. So when the opportunity arose with Helping Nature Heal to transform the landscape around Nature's House into a low-water use, low maintenance garden filled with native Nova Scotian vegetation and natural habitat for birds, butterflies, pollinators and other wildlife, Jacqui jumped in. "I'm an avid gardener, hiker, outdoorsperson," explains Jacqui. "A few hours in the outdoors in somebody else's garden is perfect for me." As an enthusiastic forager and aspiring herbalist, she was especially excited to learn more from Helping Nature Heal about native plants, as she is "very interested in continuing and preserving that legacy in Nova Scotia."
As part of the preparation for that initial planting, volunteers received a list of appropriate plants they could contribute from their own gardens. At the workshop, Jacqui says, "I learned more specifics about what native plants will do and where they'll thrive. There's lots of shade in that garden! People are always asking about shade gardens and what they could plant, so it was great to learn about what grows well in shade. I have definitely learned to include them in my own bed."
Jacqui also appreciated the spirit of sharing plants that she found at that event. "I continue to do that sharing on a regular basis," she says. "In fact, I'm going to see a friend tomorrow where I'll probably take the list I got last year from the Nature Trust planting, to help her choose plants for her new garden!"
"Of course, with the year that just passed, without anybody able to tend the garden, the wildness really took over. So that's when Christina contacted me and asked if I would be interested in doing some cleanup," says Jacqui. "She needed someone who would know what to leave in, that would be beneficial for the pollinators, etc. Good old dandelion is staying there! And others that were being choked out by vetch and some of the more invasive plants. The goal was to retain the wildness while giving space for some of the little plants that needed to be daylighted so they could thrive."
While the garden was in need of some timely attention, Jacqui feels that her volunteer work is timely in another way: "I have grandchildren who are looking at a future with this climate crisis – anything that we can do to mitigate some of the realities of that, gardening, supporting nature in whatever way we can, re-wilding places, conserving land, and everything that the Nature Trust stands for is so important. It has been important for a long time, but hopefully more people are listening now."
With a professional background in early childhood education, Jacqui is passionate about connecting kids with nature. "If we teach them to love it, they will look after it," she explains. "It's so important to include kids as often as possible – in your garden, on a hike, in whatever ways where they can feel as much like full participants as possible. They need to be outside, experiencing the beauty we have in our province. There's lots of awe and wonder in little kids – it's so easy to get them connected to nature. They see the magic."
She's excited for more people to experience that magic at Nature's Garden, as the Nature Trust is able to begin hosting people and events there again in accordance with updated safety protocols.
In the meantime, she says, "There's lots more to do – we do have the dreaded goutweed in the back of the garden, so next time I'll probably tackle that." We're so grateful for our garden to have Jacqui's dedicated care. Thank you to Jacqui, and to all of the volunteers who helped create and maintain Nature's Garden!