Daniele Hart: A birthday celebration that will last forever
19 Jul 2021
This month we'd like to celebrate Daniele Hart, who chose to rally her friends and family to protect nature for her 60th birthday.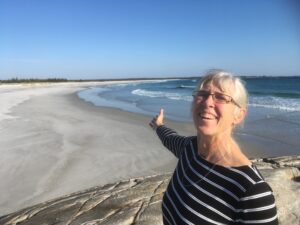 A canoer, hiker and biker, Daniele has a deep appreciation for the natural world. She wanted to do something meaningful to commemorate this milestone birthday and decided to focus on land conservation in Nova Scotia, where she and her husband, David, have lived for 30 years.
The couple made a lead gift to the Nature Trust and wrote to family and friends, "It is our belief that in addition to what government does, we, as individuals, can help to preserve land in perpetuity for the creatures and life forms with whom we share this precious planet…. It honours our ancestors, ourselves, our children, and all future generations, who will be grateful that we had the foresight to buy land while it was still possible."
Daniele's email resonated with many friends and family members who responded with donations in her honour to the Nature Trust. Becca Strople is one such friend who was pleased to celebrate Daniele's birthday in this way. Having grown up exploring the 100 Wild Islands, Becca shares the sense of urgency to preserve more of the province in perpetuity.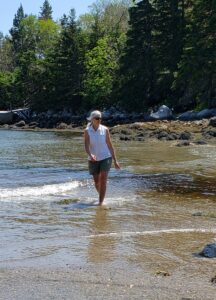 "It is a great privilege to know Daniele and she is certainly one of the most selfless and generous of people. I truly admire the way she becomes part of the water when she swims or paddles and how softly and respectfully she walks on Mother Earth. She is a strong role model we need if we are going to save and reclaim our natural environment."
At the time of publication, gifts totalled $8,940 from 32 different donors. With the majority of funds donated to the Twice the Wild Campaign, Daniele's birthday fundraiser will unlock an additional $28,000 in matching funds to help double the protected space in Nova Scotia.
"In our capitalist society, it's really the only way to preserve land. You can count on government for some of it but this is an opportunity to preserve land that private owners have," says Daniele. "Just seeing the massive deterioration of environment everywhere—any opportunity we have to preserve something, let's do it.