Bruce Blakemore: Lasting Love for Coastal Conservation
22 Nov 2021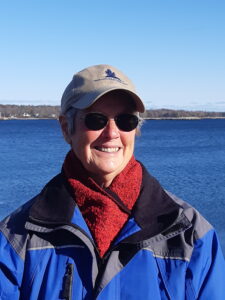 Our volunteer of the month, Bruce Blakemore, first connected with the Nature Trust when she and her late husband, Hugh Jones, wanted to conserve their own coastal property at Purgatory Point. They immediately jumped in to steward the nearby conservation land of Crow Neck Beach as Property Guardians, and here Bruce shares the story of that inspiration.
My late husband, Hugh Jones, and I were both keen outdoors people. We had a large organic vegetable garden (I still do), were birders, amateur geologists, and loved to hike and be on the water exploring new places. The irony is that we worked in the theatre which meant we spent our working life in a black box. All the more reason to find joy in "the great outdoors."
We worked and played all over North America but we particularly enjoyed exploring Nova Scotia. At some point in the 1970s, we decided that since we lived on a peninsula we should explore all the peninsulas between Yarmouth and Halifax. Over many years we accomplished that goal.
We visited many splendid secluded beaches, harbours, bays, inlets, coves. But as the years passed there seemed to be more and more pressure on the shore from development. It was startling to hear how much of the province's beautiful coastline was in private, often foreign, hands. That included our peninsula and we wanted to protect our small piece of it against future development.
So we approached the Nature Trust in 2009 about a Conservation Easement for our property at Purgatory Point, and are forever grateful that we did. It was the first property in Shelburne County to be protected by the Nature Trust, but to our delight Crow Neck Beach soon followed. On a glorious August day in 2011 there was a gathering at Crow Neck to celebrate the protection of both properties.
Hugh and I were most grateful for all the friendly assistance we had received from the Nature Trust staff while negotiating the easement for our property so we were happy to volunteer as Property Guardians for Crow Neck. It coincided with our retirement from the entertainment industry, and high on our list of things to do was exploring and hiking the many corners of this beautiful province. We visited many Nature Trust conservation lands and I plan to continue to do so. And our interactions with the wonderful Nature Trust staff continued over the years as they made annual visits or held events such as cleanups or bird watching hikes.
When we became guardians for Crow Neck we decided that we would visit every solstice and equinox. But it is such a wonderful place that visits became more frequent. Walking a stunningly beautiful beach on a regular basis is hardly an onerous volunteer job!
It is truly a magical piece of shoreline. One never knows what one is going to be presented with. A magnificent sand beach or a beach covered in seaweed. Migrating shorebirds. In summer, fingers crossed, Piping Plover chicks. Ducks and gulls, crows and ravens. Deer and coyote tracks. Atmospheric conditions that might be "severe clear" or might cause the rocks on the horizon to "loom" (appear to be floating above the surface). The one constant is the sound of the breaking waves.
Crow Neck is a southeasterly facing beach. An easterly storm can deposit an enormous amount of seaweed on the beach; it is important to visit after a storm to see how the beach and the dunes have been affected and whether there is further coastal erosion. On my most recent visit I walked between 6′ high piles of mixed seaweed: kelp, rockweed, bladderwort, Irish moss, etc. deposited at the north end of the beach. Another visit might reveal a massive amount of kelp covering the beach at the south end. Or there might be no seaweed at all. It is guaranteed that there will be lobster traps washed up on the dunes.
Visits to Crow Neck are always different according to the tide, the light, the wind, the birds and wildlife, and many other factors. But they are always inspirational.
Please join us in thanking Bruce for her lasting dedication to coastal conservation and stewardship!