Attached to the Land: Richmond Campbell and Susan Sherwin
22 Jul 2019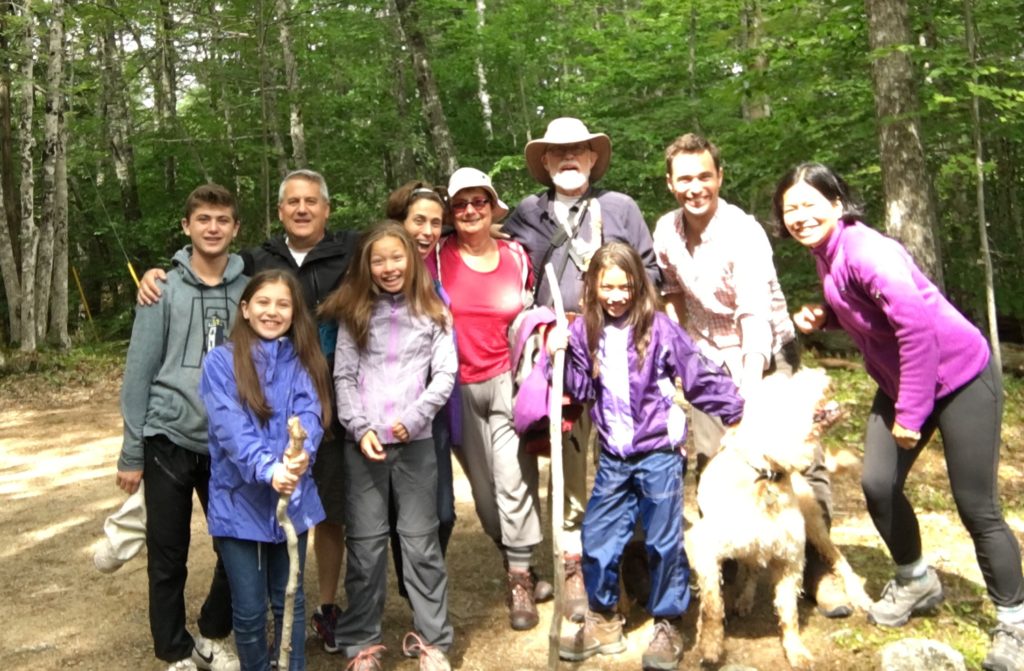 by Andrew Robinson, Nature Trust Volunteer Writer
Meet two of our Guardians of the Land donors, Richmond Campbell and Susan Sherwin. For two transplanted city-folk, Richmond and Susan have surely embraced the Nova Scotian wilderness. Both have explored Kejimkujik backcountry extensively and spent 27 years living in the natural wilderness of Five Island Lake in Hubley, NS. As well, Richmond played an instrumental role in the creation of the iconic Bluff Wilderness Hiking Trail.
Richmond hails from Washington, DC and Susan is a native of Toronto. Both found Nova Scotia as young adults around 50 years ago and they've been together for 40 of those years. Today they enjoy an active retirement in downtown Halifax, in a treed setting close to the Public Gardens. Kejimkujik remains a regular draw for the couple.
"I would say we've been visiting Keji for around 40 years – pretty much since we met," recalls Richmond. "And we always enjoyed the backcountry, although having almost lost our lives on a recent trip, maybe we will be a little less adventurous in the future!" As Richmond told it: "We were crossing the big lake against a headwind, and the swells were quite high with white caps. If we had stopped paddling, we would have been swamped. We were able to briefly take shelter on an island and get our bearings before making the final push to shore. We arrived at Jake's Landing after three hours hard paddling just as the sun set completely."
On land, Richmond loves to explore. "I've never enjoyed following a trail," he explained. "I much prefer to work from my compass and bushwhack. I learned that skill when I served as a US Marine, before my academic career in Philosophy."
Both Susan and Richmond credit their love of the outdoors to their childhood experiences at Summer Camps and, as adults, to the nearby wilderness throughout Nova Scotia.
"I recall my summer camping experiences in the Algonquin area," Susan said. "I've always felt at peace with the gentle rhythm of nature found in woods. My first love has always been trees and lakes, and the solitude of the back country brings a calm it is hard to find elsewhere."
Both spent their careers as Philosophy professors at Dalhousie. For each of them, a primary focus of their teaching and research has been reflecting on core values and questions about how to live while honouring those values. Respect for nature is central to their lives and their life work.
Home for much of their married life was the Five Island Lake area in Hubley. Both enjoyed the natural wilderness on their doorstep. Richmond would hike into the bluffs area and camp, enjoying the solitude. "I would rarely see anyone back there, except perhaps the odd hunter in season," he said. But he worried that development threatened that precious natural environment.
That wilderness area encompasses many different types of flora, open granite barrens and tree stands, together with Nova Scotia's only native moose population. Richmond felt a deep attachment to this land, and so, in 1995, with Susan's encouragement, he helped found the Woodens River Watershed Environmental Organization (WRWEO). From those beginnings, the group was able to establish the Bluff Wilderness Hiking Trail system and work in coalition with other environmental organizations to protect and preserve the entire 22,000 acres of the Five Bridge Lakes Wilderness Area.
Richmond spoke of one conservation benefit from the trails system; "If you don't bring the people to an area they won't see it, and they will not care to protect it. But the challenge is to avoid making it too accessible and risk destroying the very thing you set out to protect. That is one reason we really drive home 'leave no trace' camping. To date WRWEO has trained over 100 people as trail stewards to help educate trail users and manage the trail system."
The experience with the Bluff Trail led the couple to consider Nova Scotia wilderness in other forms.
"We are very worried about the reckless forestry activity we see in this province," Susan commented. "There are relatively few beneficiaries locally from the industrial forestry model, and so many serious, long term implications that we felt we should take action." When Professor William Lahey was commissioned to conduct an independent review of forest practices for the Nova Scotia Government, the couple prepared a 10 page submission supporting the development of locally driven, sustainable forestry management practices.
"Nova Scotia is a spectacular and wonderful place, but it is fragile," said Susan. "These lands will only survive with proactive help to protect and preserve the amazing biodiversity. We believe the Nova Scotia Nature Trust to be a major force in keeping our province a destination for families and visitors alike." This is one of the reasons Susan and Richmond decided to become Guardians of the Land donors who commit to a multi-year, unrestricted gift.
"The Nature Trust has shown they have the ability to make things happen, and that is really important to us because they are working in our backyard. Now that we are able, we have chosen to do our part to help them, help us."
If Richard and Sue have inspired you to learn more,  please visit our Guardians of the Land webpage, or contact Barbara Haley, Philanthropy Director.