Artists to help 'Save the Wild Blue'
03 Feb 2020
While getting outside during the colder months is a great way to stave off the winter blues, some days are just better spent inside! And this month, thanks to a group of nature-loving artists, you can enjoy the beauty of nature from the comfort of the indoors all in support of the Nature Trust.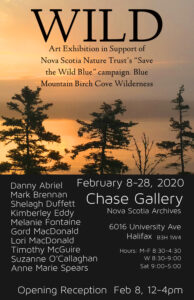 WILD, an art exhibition, runs February 8-28th at the Chase Gallery in the Nova Scotia Archives. This nature-themed exhibition will highlight the exquisite reality of wild space as seen through the eyes of ten very different artists, all of whom have agreed to donate at least 20% of the exhibition proceeds to our 'Save the Wild Blue' campaign.
'Save the Wild Blue' aims to protect 575 acres of exceptional wilderness just 20 minutes from Halifax. The land, named the Blue Mountain Wilderness Connector, was originally slated for forestry and residential development. Fortunately the property's owners saw a unique opportunity not only to protect an important piece of urban wilderness, but to also contribute to and enhance the protection of the broader suite of protected lands in the Blue Mountain Birch Cove Lakes.
The owners agreed to sell the property to the Nova Scotia Nature Trust at a reduced cost, thereby making a generous in-kind contribution to kick-start the campaign. But, with its prime location near the city and pressure from development all around, the piece of property comes with a hefty price tag – we must raise nearly $2.4 million by July 2020 in order to purchase and protect the Connector.
After hearing about the campaign, Shelagh Duffet, organizer of the event and a contributing artist, knew that it was something she wanted to support. "I used to swim in Suzie and Quarry Lake as a teenager and now I hike in the area. I want to do all I can to help preserve and protect this beautiful area for the future." And she's not alone – Shelagh reached out to her artist friends and gathered up 9 more artists to help support the cause.
The opening reception of the WILD art exhibition will take place on Saturday February 8th, 12-4pm at the Chase Gallery, Nova Scotia Archives,  6016 University Ave, Halifax. The creative artists involved in WILD, the exhibition are Danny Abriel, Mark Brennan, Shelagh Duffett, Kimberley Eddy, Melanie Fontaine, Gord MacDonald, Lori MacDonald, Timothy McGuire, Suzanne O'Callaghan, Anne-Marie Spears.