Andy Robinson: Inspiring Others Through the Written Word
26 Mar 2020
By Andrew Robinson, Nature Trust Volunteer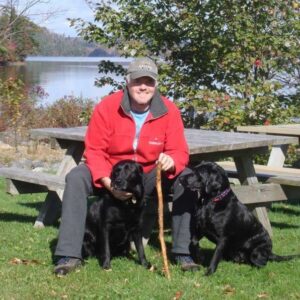 When I took early retirement a few years ago, I was looking for a volunteer opportunity where I could become part of the team, to have a worthwhile involvement in the organisation. I wanted to work on meaningful projects, the things that might be essential to the mission but are often bumped down the priority list by more urgent, or more important tasks.
I tried volunteering at a few different places, but too often I found that volunteers were not really valued, and getting challenging unpaid assignments was far harder than it should have been! That's when I discovered the Nature Trust and the wonderful team working so hard to identify and safeguard the most fragile, unique and special places in this, my adopted home.
When you choose to volunteer, you are working purely for the love of the experience, whether that be because you love the team, the task or the ultimate outcome. For me, the Nature Trust fulfills all three avenues. I am blessed to be considered a Team Member by Barbara, Bonnie and Ross, and the whole team at Nature's House. Christina always makes sure coffee is available, Barbara always makes time to ask about family, everyone always says 'thank you'. Within a few months of initially volunteering I was asked to take a short contract to help create content for the new website, and today as a volunteer I focus primarily on Donor and Volunteer stories, and website updates for Giving and Volunteer pages. Real, meaningful work I can take ownership in.
But aside from all that, aside from being able to work alongside committed, bright, energetic folks who are passionate about their work, I am proud to be supporting an organisation dedicated to preserving the natural heritage of this fine province. As a naturalised Canadian, I chose to leave my homeland to settle in Nova Scotia above any other province. I volunteer for the Nature Trust because I want to help ensure the best of Nova Scotia looks exactly like they do today, for ever more.
*Many thanks to Andy for sharing his gift for storytelling with the Nature Trust and our supporters. He is an absolute joy to work with and we're grateful for his many contributions.*