A piece of history protected in Purcells Cove Backlands
31 Mar 2023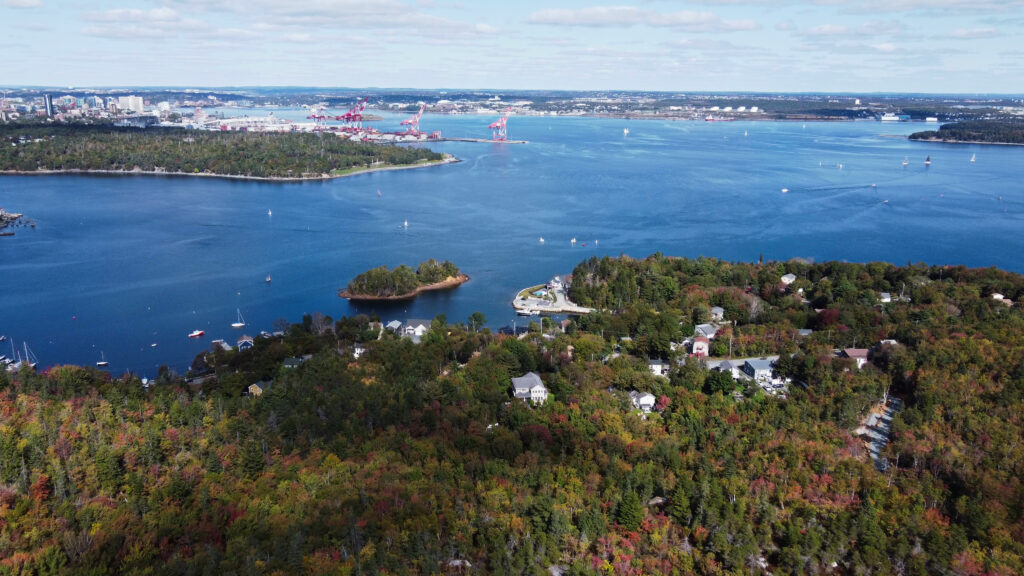 Nestled in the Purcells Cove Backlands lies a newly secured 5.5-acre property that provides important protection for sensitive ecosystems as well as opportunities for public access and recreational activities. Beyond that, this particular property possesses rich cultural and historical significance, as the previous owner's family lineage connects to the original Purcell family – the area's namesake.
The Nature Trust acquired the property from Bary and Marlene Duggan, a couple with a long family history attached to this land. "I'm the only person I know of who was born in Purcells Cove, went to school here, fished here throughout my life and never moved out of the Cove," says Bary.
His mother, Agnes Ann, was a descendent of the original Purcell family who settled in this area and started a multi-generational fishing lineage. A family history that's been passed down through generations, Bary recalls that Samuel Purcell settled in the area, which at one point was called "Faulkner's Village". "He started fishing here and over time much of his extended family followed in his footsteps, establishing a well-known presence in the area, which then eventually caused it to be known as Purcells Cove."
Today, the Purcells Cove Backlands is an area that has increasingly become surrounded by residential and urban development, but has remained a relatively intact urban wilderness area of recognized conservation value and a beloved place by community members, as it provides nearby opportunities for hiking, mountain biking, swimming, and other nature appreciation or recreational activities.
Bary's father, a Second World War veteran, also settled in Purcells Cove, and owned land in the area for over 80 years. Much of his land eventually became the Backlands, and some he sold as cottage lots. In fact, many of the families who purchased these lots nearly 60 years ago still reside in the area, each with their own fond memories of its wild places, trails, forests, and of Purcell's Pond – a beloved swimming hole still enjoyed by so many today.
Located nearly 1.5 kilometres southwest from Purcells Cove Road, the property borders a large parcel of Crown land and complements an existing assemblage of protected areas in the area. This urban wildland is comprised of a mixture of upland forests, forested wetlands, peatlands, open woodlands, and barrens, including unique Jack Pine and Broom Crowberry barrens. It also provides habitat for several bird, plant, and lichen species of conservation interest.
The barren parts provide habitat and nesting opportunities for the Common Nighthawk, a species of Special Concern known to breed in the area, and the forested wetlands provide potential habitat for several lichens and bird species of conservation interest, such as the Canada Warbler. Several rare plants, like the Greenland Stitchwort and Pinebarren Golden Heather, can also be associated with the barrens and areas with exposed/outcropping bedrock.
"I'm lucky that I was eventually able to own some of this land and I knew that when I retired and it was time to start downsizing, that I wanted to make sure my family's beloved lands in the Cove wouldn't become developed," says Bary. "I wanted to know that the pond, trails and surrounding areas would stay the same forever, which is why I contacted the Nature Trust."
Major support for the securement of this property was provided by the Canada Nature Fund and the Nova Scotia Crown Share Land Legacy Trust, with the remaining funds to acquire and provide long-term care of the property raised through public donations. We thank everyone who made this conservation win possible!
"I still go up and visit Purcells Pond once or twice a year," says Bary. "This place means a lot to me, and I'm thankful it will always remain intact."
To help support the ongoing conservation efforts of the Purcells Cove Backlands and other urban wildlands in Nova Scotia, support Twice the Wild today.