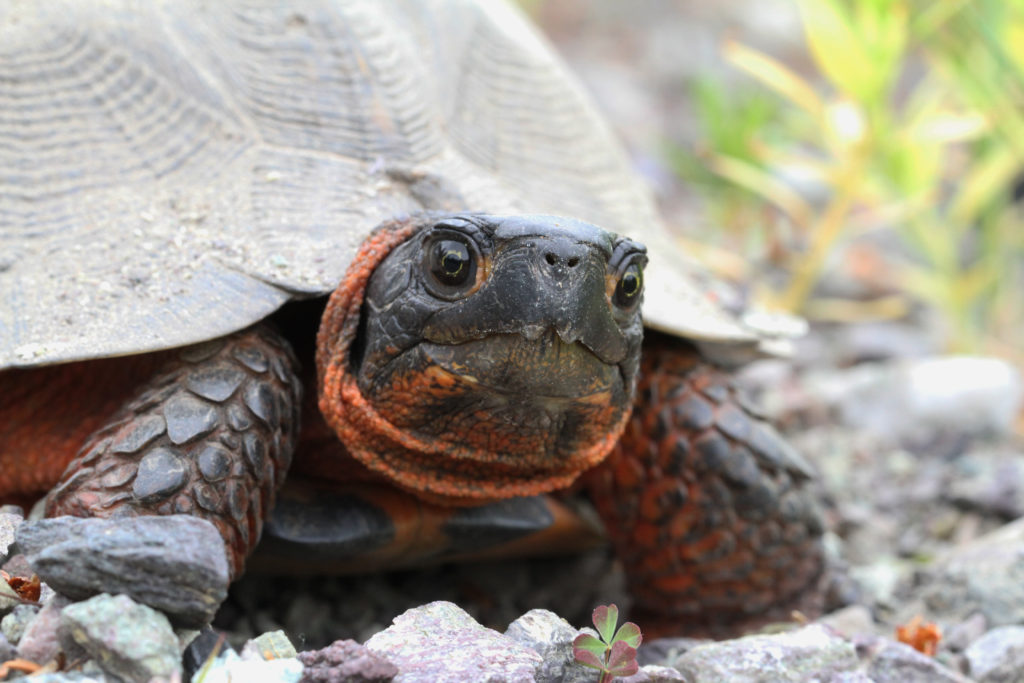 S'il vous plaît faites défiler vers le bas pour la version française
The beautiful riverfront land is located near Waternish, on the main branch of the St. Mary's River. These protected lands include over a kilometre of river shoreline and both extensive upland forests, and mature Acadian floodplain forest, a rare forest type in Nova Scotia. Floodplain forests, which once lined many Nova Scotian rivers before large-scale clearing for forestry and agriculture, are a critical part of river health. They help to keep rivers cool and clear and healthy.
Protecting these remnant forests is an important part of restoring the St. Mary's River ecosystem and ensuring it can sustain aquatic wildlife including Atlantic Salmon, and the nationally threatened Wood Turtle. The property also supports important habitat for a diversity of bird species, including several which are on Canada's species at risk list: Common Nighthawk, Canada Warbler, Barn Swallow, and Eastern Wood-peewee.
We were overjoyed to celebrate yet another conservation success on the St. Mary's River in 2014, thanks to the perseverance of long-time Nature Trust supporters Hardy and Barbara Eshbaugh, who protected the property at the time through a conservation easement. The floodplain and upland forests at this site have been explored and appreciated by the property's many human visitors over the years, and will be protected forever through this agreement.
Permission must be sought through the Nature Trust before visiting these Conservation Lands. Please contact the Nature Trust for details. While at the property, visitors are asked to not disturb any wildlife, or remove any plants, while on visiting.
La version française
Cette belle propriété riveraine est située près de Waternish, sur le bras principal de la rivière St. Mary. Ces terres protégées présentent plus d'un kilomètre de berges et deux types de forêts : les forêts de hautes terres et les forêts matures inondables acadiennes. Ces dernières sont devenues rares en Nouvelle-Écosse à cause du défrichement à grande échelle pour l'exploitation forestière et agricole. Elles ont pourtant un rôle important à jouer dans la santé de la rivière en rafraichissant et clarifiant l'eau.
Protéger les dernières parcelles de ces forêts est une part importante du processus de restauration de l'écosystème de la rivière St. Mary. Cela est aussi nécessaire pour assurer le maintien de la vie aquatique sauvage telle que le Saumon de l'Atlantique et la Tortue des Bois, une espèce nationalement menacée. La propriété est aussi un habitat important pour une diversité d'espèces d'oiseaux, dont certaines sont également des espèces menacées à l'échelle du Canada : l'Engoulevent d'Amérique, la Paruline du Canada, l'Hirondelle Rustique et le Pioui de l'Est.
Nous avons encore une fois été ravi de célébrer le succès du plan de conservation de la rivière St. Mary en 2014 grâce à la persévérance de Hardy et Barbara Eshbaugh. Ces soutiens de longue date de Nature Trust ont à l'époque protégé la propriété par une servitude de conservation. Les forêts de hautes terres et les forêts inondables de ce site ont été visitées et appréciées par beaucoup de visiteurs au fil des années et seront protégées définitivement à travers cet accord.
Pour visiter ces Aires de Conservation, il est nécessaire de demander la permission à Nature Trust. Pour plus d'informations, veuillez s'il vous plaît contacter Nature Trust. Les visiteurs de ce site sont priés de ne pas déranger la vie sauvage et de ne pas cueillir de plantes.