Purcells Cove Conservation Land gets Corporate Makeover
28 Sep 2018
Forward thinking company known for thinking green
It poured rain. Everyone was tired. Everyone was sweaty. (You try cutting a fallen birch tree into pieces with a bow saw and not break a sweat.) But none of this dampened the spirits of the 24 Nature's Way staff who took to the woods with a team from the Nature Trust to get some first-hand experience in stewarding the land.
Nature's Way, a North America wide nutritional supplement maker with offices in Dartmouth, has long supported the Nature Trust, including a recent three year commitment of $75,000, and Nature's Way staff are well familiar with the cause-related sector. They play a role in where company support is directed.
Of the three groups Nature's Way supports annually (the Nature Trust is one of those three) the staff chooses one of them. Proposals are drafted, pitches are made, votes are undertaken. This helps explain why this team is so well versed in conservation issues. Such issues are a big part of the company's culture.
On this day, we are on the Nature Trust's Purcell's Cove conservation site—and there is work to be done.
Along with Nature Trust staff, the team from Nature's Way more than pulls its own weight, taking shifts on the two-person bow saw used to cut and remove a fallen birch tree that was obstructing the path. Also on the brute strength front, a Nature Trust interpretive sign needed to be moved farther up the trail: the sign's hulking post was so deep in the ground it took three people nearly half an hour to remove it.
Several members of the Nature's Way team devoted their time almost exclusively to the trimming of branches that had grown to the point of blocking the path. A general cleanup of litter and removal of graffiti was also carried out. The Nature's Way team worked in two groups, each taking about a two-hour shift.
At the end of the day, everyone was thrilled by the results of their labour. The winding path through the woods, which takes about twenty minutes to walk each way, was more open and cleaner looking than it was just a few hours before.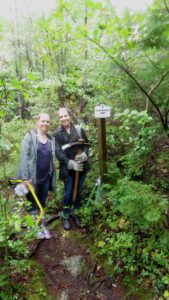 The peak of the afternoon came at trail's end, when Purcell's Pond came into view. For a swim amidst exotic scenery, you can't ask for more.
The pond is surrounded by a globally rare jack pine barren. This landscape, Nature Trust conservation coordinator John Paterson informs the group, is an example of "fire ecology," with the jack pine uniquely adapted to fire, being not just resilient to it but reliant upon it for protection from invasive species.
The common nighthawk is also found here, John tells us, although its name, unfortunately, is not an accurate reflection of reality as the species is threatened.
Nighthawks feed here, usually at dusk or dawn. Seasoned hikers know a nighthawk when they hear one. Not from a vocalization, however (although they vocalize, too). The sound of the nighthawk that is so unmistakeable (and unforgettable) is the booming sound made by the wind rushing through its feathers as it dives from above.
After a rest period, the group heads back down the trail to the parking lot where, thanks to the Nature's Way stewardship posse, overhanging branches no longer scrape car rooftops as they had done a few hours before.
On a great day, we'll leave a final word to Pam McEwing, Vice President of Operations for Nature's Way Canada.
"Nature's Way is committed to helping people and the planet through our products and how they're manufactured. Companies have an obligation to give back to the community and this is a way for us to support the community our staff and their families live in. Our team had a great time and everyone felt a great sense of accomplishment. We appreciated that we actually had real work to do!"
Nature's Way represents a growing trend in today's workforce that sees people wanting to be more involved in the Corporate Social Responsibility efforts of the companies they work for. On this front, Nature's Way is not just a pioneer in herbal supplements, it's a pioneer in corporate citizenship.