International Day of Forests – A time to reconnect with the Acadian Forest
16 Mar 2020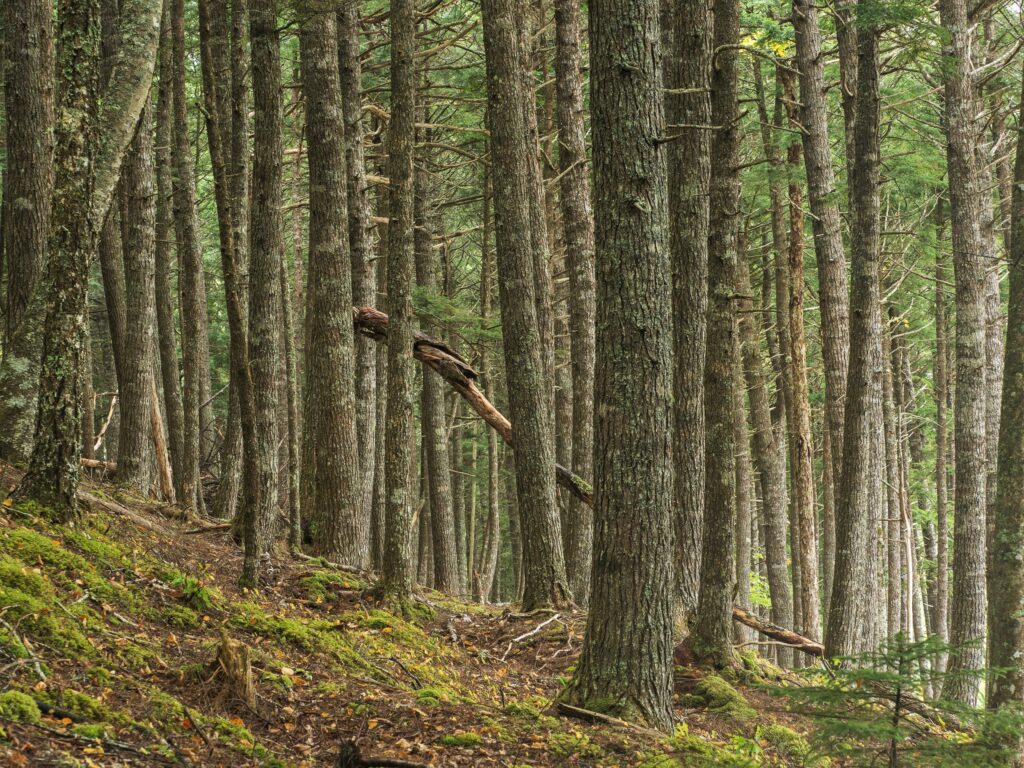 This Saturday, March 21st marks the International Day of Forests. The Day was created by the United Nations in an effort to increase the public's knowledge of forests and all they do for us, like filter the water we drink and supply the air we breathe. In honour of the Day, the Nature Trust would like to celebrate our very own Acadian Forest Region.
A rich and diverse mixed wood forest ecosystem, the Acadian Forest Region spans across the Maritimes and into the northeastern United States. It consists of a novel blend of the Northern Hardwood and Boreal forests, including both coniferous trees like Balsam Fir, Eastern Hemlock, Eastern White Pine, and deciduous trees like Yellow Birch, Sugar Maple, and American Beech. Nevertheless, it's the presence of Nova Scotia's provincial tree, the Red Spruce, that makes the Acadian Forest Region distinct; not only is this conifer well adapted to Nova Scotia's coastal climate, but it can live up to 400 years!
Myriad wildlife species call the Acadian Forest home. The great diversity of plant species provide shelter and sustenance for birds, mammals, and reptiles. Sparse rays of sunlight filter their way through the dense  tree canopy to the shade-loving flora that thrive on the forest floor, with lichens and mosses enveloping the trees, boulders, and rocks.
Mature to old growth stands of the Acadian Forest Region are particularly important for wildlife and conservation. The genetic diversity and age of old growth strengthens its ability to withstand disturbance events like storms, fires, diseases, and pest outbreaks – a critical feature as climate change affects forests worldwide.
Old growth forests (>150 years old) in Nova Scotia are increasingly rare and at risk. Over the past 300 years, much of the Acadian Forest in our province has been logged or cleared for agriculture and settlement. Add to that pressures from natural disturbances like hurricanes and pest infestations, and the result is less than 1% of our forests are over 100 years old, most of which are found in small isolated stands. Most of the remaining stands are not big enough to support wildlife species requiring large areas of mature undisturbed forest, like Pine Marten (or American Marten) and Canada Lynx (both provincially designated as Endangered).With so little old growth forest left, permanent legal protection of the remaining stands is of utmost importance.
The Nature Trust works hard to protect these remaining pockets of mature Acadian Forest across Nova Scotia, from the towering Eastern Hemlocks of Wolfville Watershed, to the broad and noble Sugar Maples of the Baddeck River Conservation Lands in Cape Breton. While it may be a time to distance ourselves from one another, it is also an opportunity to reconnect with nature, and, especially on a day like today, our Acadian Forest ecosystems.
Thanks to Nature Trust volunteer Courtney Hangle for her contributions to this article!
Further reading:
Mosseler, A., Lynds, J.A., & Major, J.E. (2003). Old-growth forests of the Acadian Forest Region. https://www.nrcresearchpress.com/doi/pdf/10.1139/a03-015
Parks Canada. (2018, July 3). Cape Breton Highlands National Park: Acadian forest. https://www.pc.gc.ca/en/pn-np/ns/cbreton/decouvrir-discover/environ/eco/acadienne-acadian