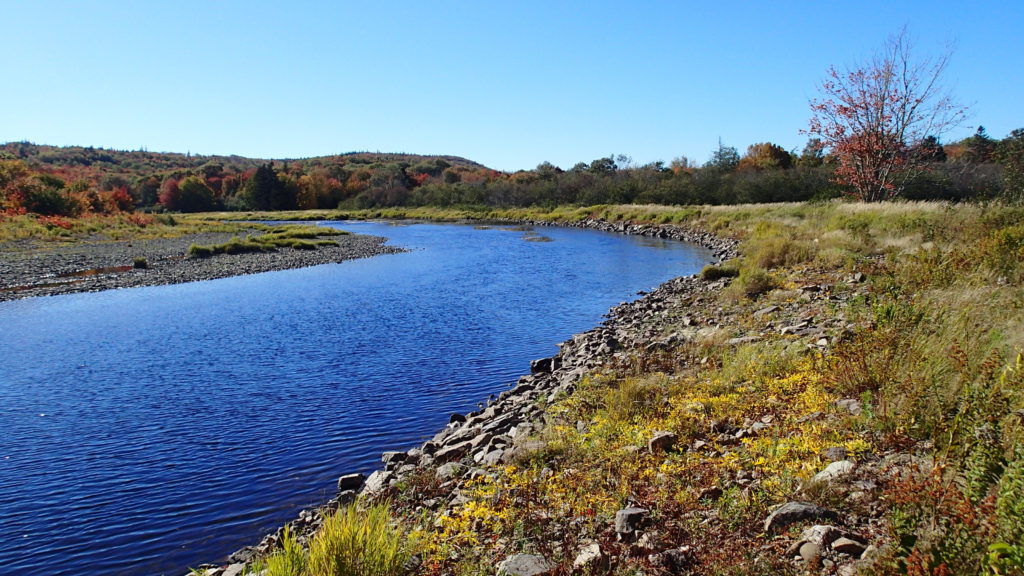 S'il vous plaît faites défiler vers le bas pour la version française
The "ribbon of green" of protected land along the edge of the St. Mary' River came together even more in 2015, with the donation of the West River Conservation Lands to the Nature Trust. On its own, this property is significant for the wildlife habitat it provides, and the rare floodplain forest it supports. It is also an excellent addition to the series of protected areas along the river, including the adjacent Archibald Conservation Lands, and nearby A.M. Sandy Cameron Conservation Lands. Providing connected, continuous, protected habitat for the flora and fauna of the river is an important part of helping them to persist, and in some cases, recover from decline.
This property protects 630 m of undeveloped shoreline on the West Branch of the St. Mary's River. This long riparian zone, and the adjacent floodplain forest, is vital for many species of wildlife, including one imperilled reptile: the Wood Turtle. This nationally Threatened turtle species will venture away from the river to find food, but that puts it at risk of being injured or killed by cars, or farm equipment. If visiting this site, please do so in a respectful way by not disturbing wildlife you see at the site, or removing any plants from the site.
Ron Archibald generously donated this property to ensure a place for wildlife along the river in perpetuity.
La version française
Le « ruban de verdure » de terres protégées bordant la rivière St. Mary s'est encore étendu en 2015 avec la donation à Nature Trust de l'Aire de Conservation West River. Grace à l'habitat sauvage qu'elle procure ainsi que la forêt de plaine inondable qu'elle abrite, cette propriété a une importance significative pour la faune et la flore locales. Elle complète parfaitement la série de zones protégées bordant la rivière, en jouxtant l'Aire de Conservation Archibald, non loin de l'Aire de Conservation A.M. Sandy Cameron. Fournir à la faune et la flore de la rivière un habitat connecté, continu et protégé leur permet de persister et dans certain cas, de restaurer une partie de leur population.
Cette propriété protège 630 m de rives sur le bras Ouest de la rivière St. Mary. Cette longue étendue riveraine ainsi que la forêt de plaine inondable adjacente, sont vitales pour beaucoup d'espèces sauvages dont la Tortue des Bois, une espèce de reptile nationalement menacée. Lorsqu'elle s'éloigne de la rivière pour trouver de la nourriture, elle risque de se faire percuter ou tuer par les voitures ou les machines agricoles. Si vous visitez ce site, veuillez s'il vous plaît le respecter, en évitant de perturber la vie sauvage et d'endommager les plantes.
Ron Archibald a généreusement fait don de cette propriété afin d'assurer de manière pérenne la présence d'une zone sauvage le long de la rivière.