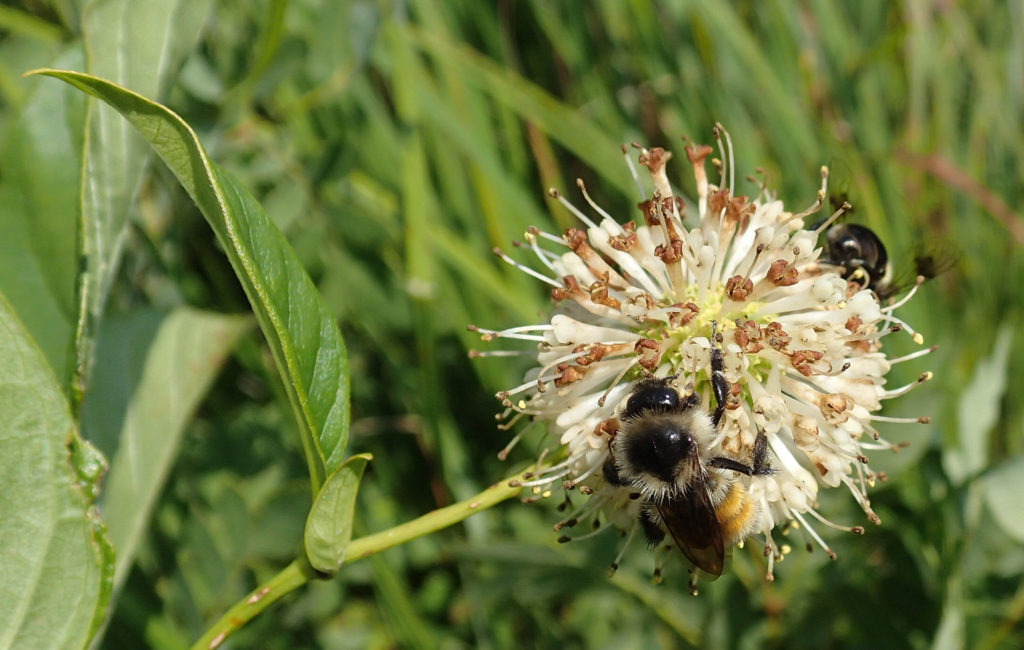 S'il vous plaît faites défiler vers le bas pour la version française
Along a lovely bend in Pleasant River is a sedge-filled fen that supports water-loving plants and turtles. Blanding's Turtles use Pleasant River to feed, bask, and travel along as they move from summer to winter sites, and back again. Fortunately, the Nature Trust has protected several sites along the river, so Blanding's Turtles can count on the habitat they need at these sites for generations to come. A major threat to Blanding's Turtle is being hit by cars. If you see a Blanding's Turtle at this site or anywhere else along the river, please don't disturb it. But if you see one crossing a road, please do help it along its way (move it off the road but still in the direction it was heading). We also invite you to get in touch with us to discover how you can help care for Blanding's Turtle habitat in the Pleasant River area.
La version française
Le long d'une charmante courbe de la rivière Pleasant River se trouve un marais rempli de carex abritant des plantes et tortues aquatiques. Les Tortues de Blanding (ou Tortues mouchetées) utilisent la rivière Pleasant River pour se nourrir, se prélasser et se déplacer lors de leurs migration entre les sites estivaux et hivernaux. Heureusement, Nature Trust a protégé plusieurs sites le long de la rivière, de sorte que les Tortues de Blanding puissent compter sur l'habitat dont elles ont besoin aujourd'hui ainsi que pour les générations futures. L'une des menaces principales pesant sur les Tortues de Blanding, est une collision avec une voiture. Si vous apercevez une Tortue de Blanding sur ce site où ailleurs le long de la rivière, veuillez s'il vous plaît ne pas la perturber. Mais si vous apercevez l'une d'entre elle traversant la route, veuillez s'il vous plait l'aider à terminer sa traversée (retirez là de la route tout en conservant son sens de traversée). Nous vous invitons également à prendre contact avec nous, afin de découvrir comment vous pouvez prendre soin de l'habitat des Tortues de Blanding dans la zone de Pleasant River.