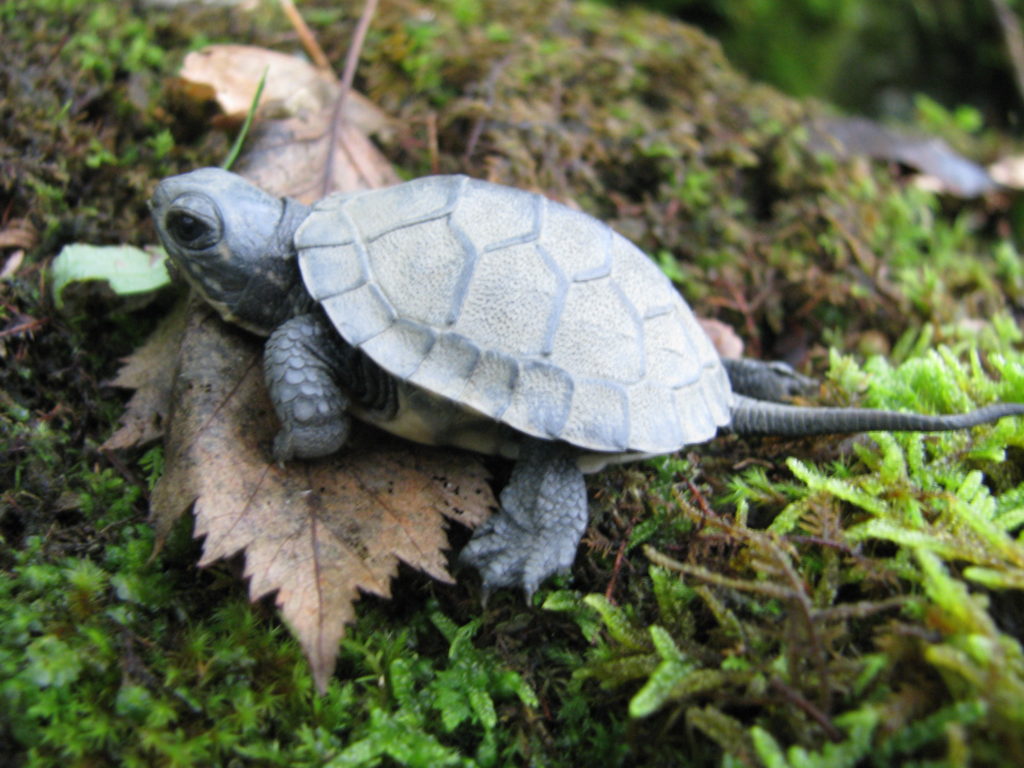 Faites défiler pour la version française
The Nature Trust has succeeded in saving one of the best remaining refuges for Blanding's Turtles in the province. The property, encompassing 15 islands and a forested peninsula on McGowan Lake, includes five and a half kilometers of undeveloped shoreline, and ideal habitat for Blanding's Turtles. The Blanding's Turtle is one of the longest-lived and slowest maturing freshwater turtles in Canada. It is also a turtle in trouble. With a hatchling survival rate of less than 1%, and expanding cottage development and roads destroying habitat in the areas where these turtles live, the endangered turtles are struggling to survive. At McGowan Lake Turtle Sanctuary they find the peace and habitat features they need to thrive. This property's protection was made possible in part through many peoples' generous donations to our 2011 campaign to save the property. By acting swiftly, we are able to secure the property, and turtles like Squirt, Lumpy, and Dilly (Blanding's Turtles are marked, monitored, and named in Nova Scotia) can continue live and nest on McGowan Lake. Please respect the sensitive nature of this property, and visit it outside of Blanding's Turtle hatching season (September to October).
La version française
Nature Trust a réussi à sauver l'un des meilleurs refuges restant de la Province, pour la Tortue de Blanding (ou Tortue mouchetée). La propriété, englobant 15 îles et une presqu'île forestière sur le Lac McGowan, comprend cinq kilomètres et demi de littoral non exploité, et constitue un habitat idéal pour la Tortue de Blanding. La Tortue de Blanding et une tortue d'eau douce à maturité tardive, qui possède l'une des plus grandes espérances de vie parmi les tortues du Canada. C'est également une tortue en danger. Avec un taux de survie des jeunes tortues inférieur à 1%, et le développement croissant des chalets et routes qui détruisent leur habitat, ces tortues en danger luttent pour survivre. Au sanctuaire McGowan Lake Turtle Sanctuary, elles trouvent le calme et l'habitat spécifique dont elles ont besoin pour prospérer. La mise sous protection du site fut en partie rendue possible, grâce aux généreux dons récoltés lors de la campagne de 2011 pour sauver la propriété. En agissant rapidement, nous sommes en mesure de protéger la propriété. Des tortues comme Squirt, Lumpy et Dilly (des Tortue de Blanding marquées, observées et identifiées en Nouvelle-Écosse) peuvent ainsi continuer à vivre et à nicher au Lac McGowan. Veuillez s'il vous plaît respecter le caractère sensible de cette propriété, et ne la visiter qu'en dehors de la période d'éclosion des Tortues de Blanding (de Septembre à Octobre).