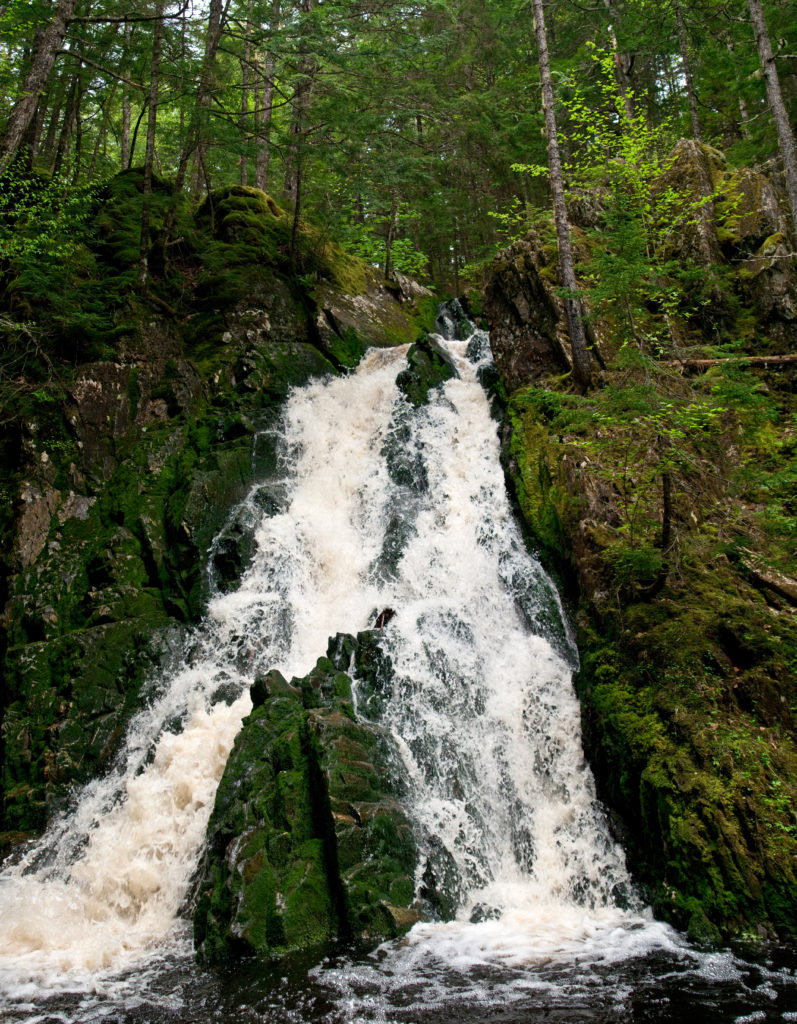 Faites défiler pour la version française
This stunning property on the West Branch of the St. Mary's River supports old-growth Eastern Hemlock and Red Spruce forest, and has a scenic waterfalls cascading over its moss-covered floors. Its extensive, intact shoreline helps to protect habitat for the nationally Threatened Wood Turtle, and the imperilled Atlantic Salmon. The old-growth forest here also hosts a myriad of other specially adapted species, which only thrive in the cool, moist conditions that this aged forest can provide.
The ownership of this property has been transferred to the Province of Nova Scotia, to be designated as a Nature Reserve, the highest form of land protection for provincially-owned lands. The Nature Trust will continue to monitor and care for these lands too.
This property is quite difficult to access. If visiting this protected area, please do so in a respectful way by ensuring that you do not remove, damage, or destroy any plants, wildlife and other natural features of the property.
La version française
Cette superbe propriété située sur le bras ouest de la rivière St. Mary, se compose d'une forêt mature de Pruches du Canada et d'Epinette Rouges, ainsi que de chutes d'eau pittoresques qui s'écoulent sur un plancher de mousses. Son littoral étendu et intact permet de protéger l'habitat de la Tortue des Bois nationalement menacée, ainsi que le Saumon de l'Atlantique, une espère en péril. La forêt mature que l'on trouve ici abrite également une multitude d'espèces spécifiquement adaptées aux conditions fraîches et humides qu'elle leur procure.
Les droits de propriété ont été transférés à la Province de la Nouvelle-Écosse, afin que cette zone devienne une Réserve Naturelle, ce qui correspond au plus haut titre de protection pour des terres appartenant à la Province. Le site continuera également à être pris en charge et à être surveillé par Nature Trust.
Cette propriété est assez difficile d'accès. Si vous visitez cette zone protégée, veuillez s'il vous plaît ne pas déplacer, endommager ou détruire la faune, la flore ou les autres caractéristiques naturelles de la propriété.