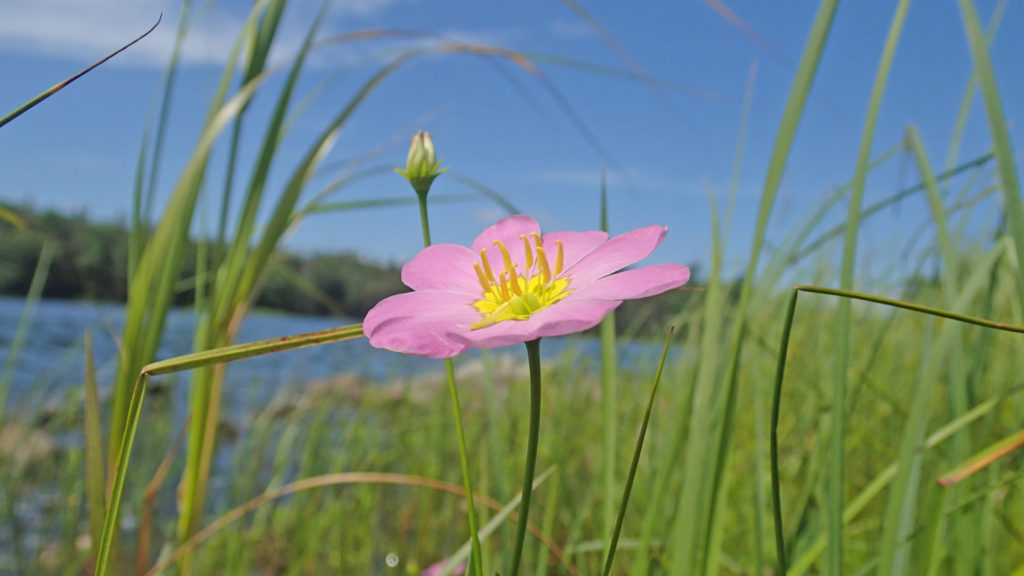 Faites défiler pour la version française
This was the third property added to the growing network of protected areas along the lake, which is one of the few areas in Canada that supports the plant group Atlantic Coastal Plain Flora. Two of this group's rarest flowers, Plymouth Gentian and Pink Coreopsis (both nationally and provincially endangered) are found along Gillfillan Lake's shore, and only a few other lakes in Canada. Damage to plants and their habitat from all-terrain vehicles is one of the documented threats to these plants, and this activity is not allowed on the Conservation Lands. People are absolutely welcome to visit this site and explore these fascinating species, in a sensitive way.
This property is accessible by the Coldstream Road. If visiting these Conservation Lands, please do not pick any plants, or disturb wildlife while on your visit.
The property's ownership has since been transferred to the Province and it will be formally protected, but it will also continue to be monitored and cared for by the Nature Trust.
La version française
Il s'agit de la troisième propriété ajoutée au réseau croissant d'aires protégées autour du lac. Cette région est l'une des rares au Canada à abriter des plantes de la Flore de la plaine côtière de l'Atlantique. La Sabatie de Kennedy et la Coréopsis rose, sont deux fleurs rares de cette Flore. Elles sont toutes deux menacées à échelle provinciale et nationale, et l'on peut les trouver le long des rives du lac Gillfillan Lake, ainsi qu'au bord de quelques autres lacs du Canada. Les dommages causés par les véhicules tout terrains sont l'une des menaces connues qui pèse sur ces plantes et leur habitat. Ces véhicules ne sont pas autorisés sur cette Aire de Conservation. Le public est bien évidement invité à visiter ce site et à explorer ces fascinantes espèces, à des fins de sensibilisation.
Cette propriété est accessible par la route nommée Coldstream Road. Si vous visitez cette Aire de Conservation, veuillez s'il vous plaît ne pas cueillir de plantes, et veillez à ne pas perturber la vie sauvage lors de votre visite.
Les droits de propriété ont depuis été transférés à la Province. Le site sera formellement protégé, mails il continuera également à être pris en charge et surveillé par Nature Trust.