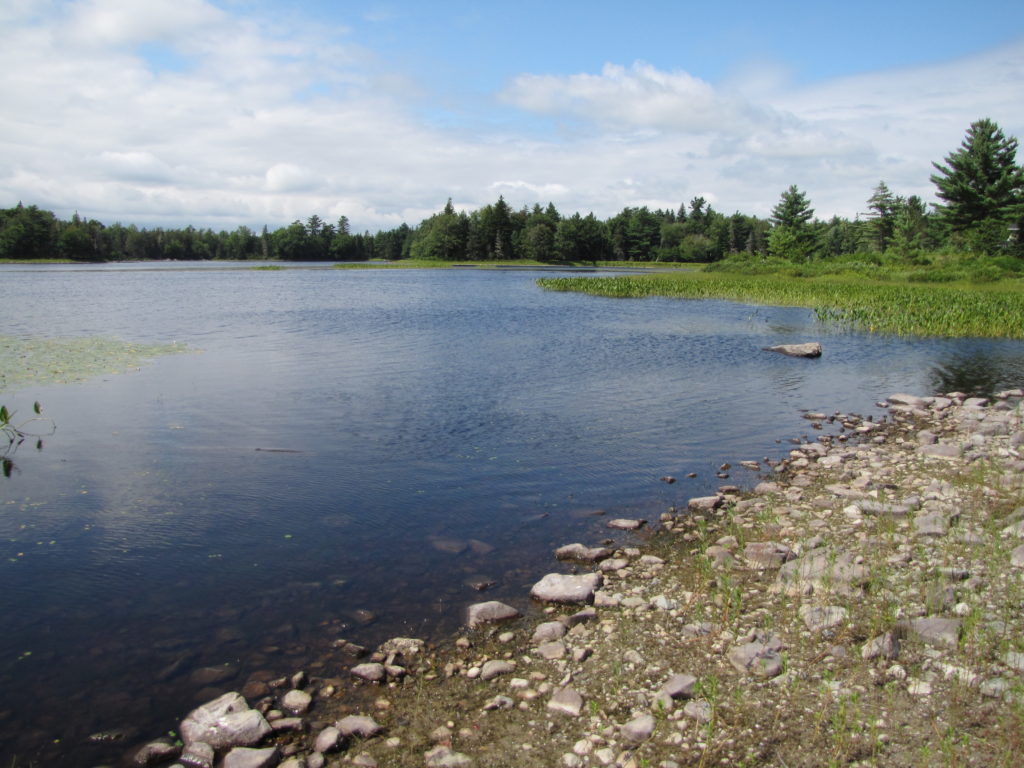 Faites défiler pour la version française
This property was the first to be protected by the Nature Trust that hosted the very rare plants Plymouth Gentian, and Pink Coreopsis (both nationally and provincially endangered). They are part of a group of species called the Atlantic Coastal Plain Flora. The group is composed of many plants with the same habitat needs, that are all "disjunct" (geographically separated) from the next closest populations (in New England). How they got here remains a mystery, but they are thought to have persists on certain lakeshores and bogs in Nova Scotia for more than 10,000 years! Now, we risk losing them from the province forever due to encroachment into their habitat from cottage development, and changes to water chemistry from nearby resistances and industry.
Fortunately, this site is part of a series of properties along Gillfillan Lake's shore that are protected by the Nature Trust, and other conservation groups, to ensure there are still safe places for these rare flowers to thrive for 10,000 more years.
This property is accessible by the Coldstream Road. If visiting these Conservation Lands, please do not pick any plants, or disturb wildlife while on your visit.
The property's ownership has since been transferred to the Province, with the provision that it be protected as a Nature Reserve, and it will continue to be monitored and cared for by the Nature Trust.
La version française
Cette propriété fut la première propriété protégée par Nature Trust, à abriter les très rares Sabatie de Kennedy et Coréopsis rose (toutes deux menacées à l'échelle provinciale et nationale). Elles appartiennent à un groupe de plantes nommé la Flore de la plaine côtière de l'Atlantique. Ce groupe est composé de nombreuses plantes nécessitant le même type d'habitat et est géographiquement isolé des populations les plus proches se trouvant en Nouvelle-Angleterre. La manière par laquelle ces plantes sont arrivées jusqu'ici reste un mystère, mais on pense qu'elles auraient persisté sur certains rivages et marécages de la Nouvelle-Écosse depuis plus de 10 000 ans ! De nos jours, nous risquons de les voir disparaitre définitivement de la Province à cause du développement de chalets qui empiètent peu à peu sur leur habitat, et de la proximité d'activités industrielles qui altèrent la chimie des eaux environnantes.
Par chance, ce site fait partie d'une série de propriétés se trouvant le long des rives du lac Gillfillan Lake, protégées par Nature Trust et d'autres groupes de conservation. Ensemble, elles permettent d'assurer à ces fleurs rares, des zones sûres pour prospérer les 10 000 prochaines années.
Cette propriété est accessible par la route nommée Coldstream Road. Si vous visitez cette Aire de Conservation, veuillez s'il vous plaît ne pas cueillir de plantes, et veillez à ne pas perturber la vie sauvage lors de votre visite.
Les droits de propriété ont depuis été transférés à la Province, à la condition que le site soit protégé en tant que Réserve Naturelle. Le site continuera également à être pris en charge et surveillé par Nature Trust.