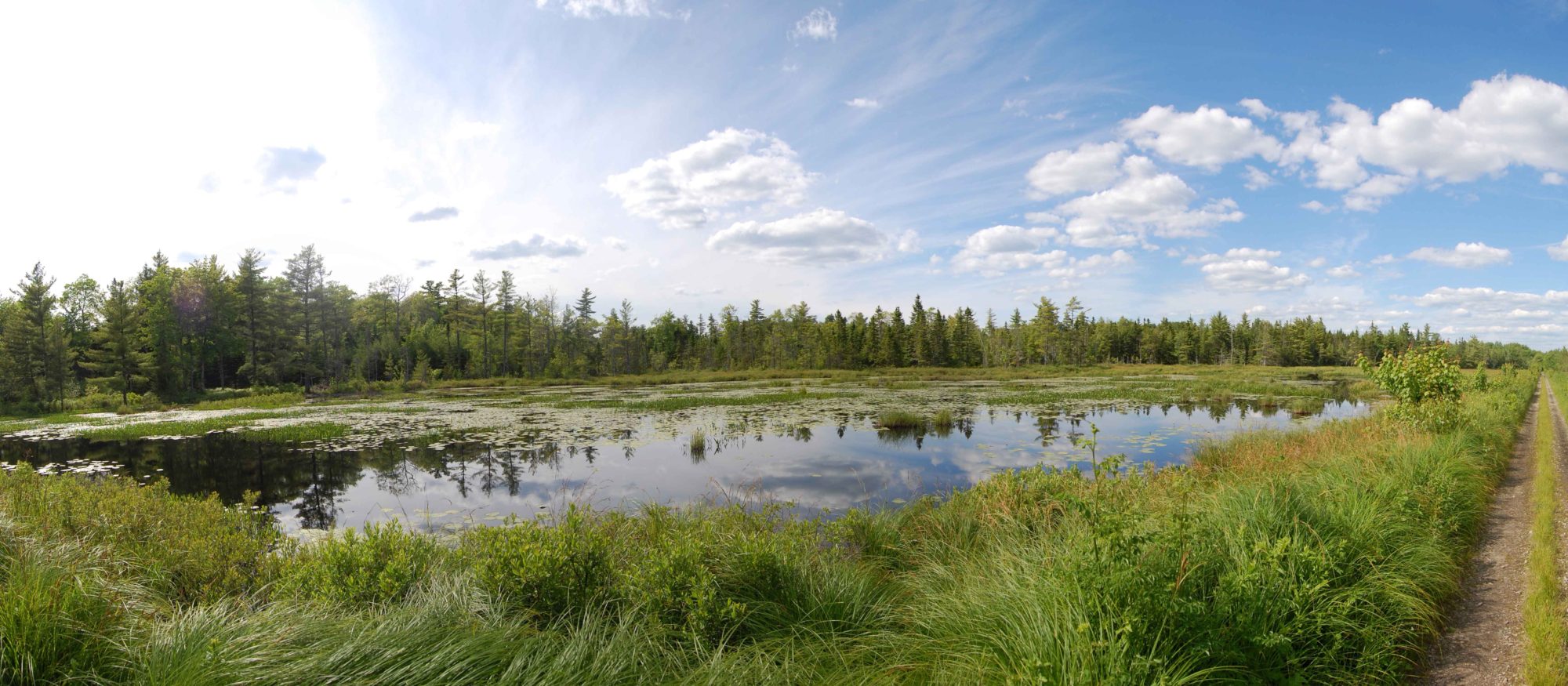 Faites défiler pour la version française
This was the first property protected by the Nature Trust for its habitat for Blanding's Turtle, and remains one of the few sites protected on private land for this imperilled species. If you see a Blanding's Turtle while visiting this site – lucky you! There are likely less than 350 Blanding's Turtles left in Nova Scotia. But please don't disturb any turtles you see at this property. This protected area provides the habitat they need while they busily attend to their needs, such as basking, foraging, and traveling between water bodies. The large pond and wetland at the site also host Eastern Ribbonsnake, another wetland-dependent species that is in trouble. Wetland birds are known from the site too, forming an important part of this complex and interconnected ecosystem.
This site is accessible by the South Shore Annapolis Valley Trail, via a section that crosses the New Elm Road in the community of Pleasant River. This is a shared-use trail maintained by a local trail group – please be very respectful of the trail and other trail users while visiting using this mode of access.
La version française
Ce site fut la première propriété protégée par Nature Trust en tant qu'habitat favorable à la Tortue de Blanding (ou Tortue mouchetée). Il est également l'un des rares sites privés, protégés pour ses espèces en péril. Chanceux sont ceux qui ont l'occasion d'apercevoir une Tortue de Blanding lors de leur visite ! Il reste probablement moins de 350 Tortues de Blanding en Nouvelle-Écosse. Nous vous prions de ne pas perturber les tortues aperçues sur cette propriété. Cette zone protégée constitut l'habitat dont elles ont besoin lorsqu'elles subviennent à leurs besoins, tels que s'exposer au soleil, brouter, et se déplacer entre les plans d'eau. Le large étang et les terres humides de ce site abritent également des Couleuvres minces et d'autres espèces des marais en difficultés. Les oiseaux de rivage, que l'on sait présents sur le site, forment une composante importante de cet écosystème complexe et interconnecté.
Ce site est accessible par le sentier nommé South Shore Annapolis Valley Trail, via une section traversant la route New Elm Road dans la collectivité de Pleasant River. Il s'agit d'un sentier à utilisation partagée entretenu par un groupe de randonneurs locaux. Veuillez s'il vous plaît, être très respectueux envers le sentier et ses usagés lorsque vous emprunterez cet accès pour visiter le site.