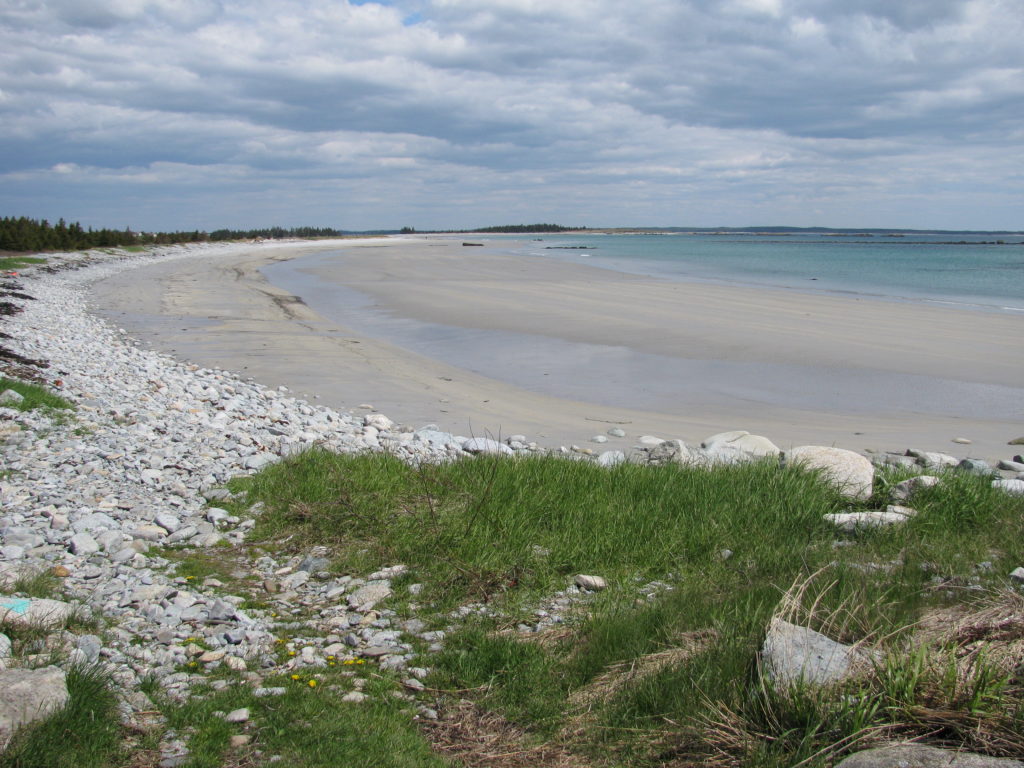 Faites défiler pour la version française
This property provides access to the glorious Crow Neck Beach, which supports nesting habitat for the endangered Piping Plover. At the time of the site's protection, it was home to a significant number of breeding pairs of Piping Plover. With natural beauty, comes responsibility to keep wildlife wild. A documented threat to Piping Plovers while nesting on Nova Scotia beaches is dogs off leash scaring plovers off their nest. Please keep your dog(s) on leash at this beach, and please walk on the wet portion of the sand beach, while visiting this beach in the Piping Plover breeding season (May to August). The western portion of the property is part of a large, mature Black Spruce and Sphagnum bog that extends across the headland, and the eastern portion contains cobble and sandy beaches, grass covered sand dunes, and a small forested area. The fresh water ponds complete the diversity of habitats at this site, which is part of the South Shore Roseway – Baccaro Important Bird Area.
The property's ownership has since be transferred to the Province, with the provision that it be protected as a Nature Reserve, and will also be protected through a conservation easement between the Nature Trust and the Province.
La version française
Ce titre de propriété donne accès à la magnifique plage de Crow Neck Beach, qui abrite un site de nidification pour le Pluvier Siffleur, une espèce en voie de disparition. Au moment de la mise sous protection du site, il hébergeait un nombre significatif de couples reproducteurs de Pluviers Siffleurs. Tout comme la beauté naturelle de ce site, il est de notre responsabilité de préserver sa faune sauvage. Les chiens sans laisses qui font fuir les Pluviers de leurs nids, sont l'une des menaces connues qui pèse sur les Pluviers Siffleurs des plages de Nouvelle-Ecosse pendant leur période de nidification. Lorsque vous visitez cette plage pendant la saison de reproduction du Pluvier Siffleur (de Mai à Août), veuillez, s'il vous plait, garder votre (vos) chien(s) en laisse et marcher sur la zone de sable humide. La partie Ouest de la propriété fait partie d'une large forêt mature d'Epinette Noire et d'une tourbière de Sphaignes qui s'étend à travers le cap, tandis que la partie Est comprend des plages de sable et de galets, des dunes de sables recouvertes d'herbes et une petite zone forestière. Les bassins d'eau douce complètent la diversité des habitats de ce site, qui fait partie de la Zone importante pour la conservation des oiseaux nommée South Shore (Roseway to Baccaro).
Les droits de propriété ont depuis été transférés à la Provine, à la condition que le site soit protégé en tant que Réserve Naturelle. Le site sera également protégé par une servitude de conservation entre Nature Trust et la Province.