GIVE a giFt to nature…AND HELP SAVE THE WILD BLUE!
Protecting the Blue Mountain Wilderness Connector
There's a beautiful wilderness paradise in Halifax called the Blue Mountain-Birch Cove Lakes. It's an incredible landscape of pristine forests, sparkling lakes and rocky barrens. A treasured spot to paddle, hike, fish and swim. To watch the birds. Or simply relax and enjoy the wild. All just 20 minutes from downtown.
Much of the land, some of the last, large undisturbed wilderness in the city, is protected. But 560 acres at its heart, is not. This critical gap in the wilderness is at risk of development.
The Nature Trust has a time-limited opportunity to save this land. Protecting this Blue Mountain Wilderness Connector will link together 5000 acres of irreplaceable urban wildlands, preserve an essential wildlife corridor and ensure the future of the Blue Mountain-Birch Cove Lakes. With your generous support, we can Save the Wild Blue.
Give the Gift of Wild Blue!
Gifts can be made in honour or memory of a loved one; as a celebration of a special event; as a team-building fundraiser amongst colleagues; or simply as a gift from you to Nature.
Donate today to save the Blue Mountain Wilderness Connector.
WHEN YOU DONATE TO SAVE THE WILD BLUE ...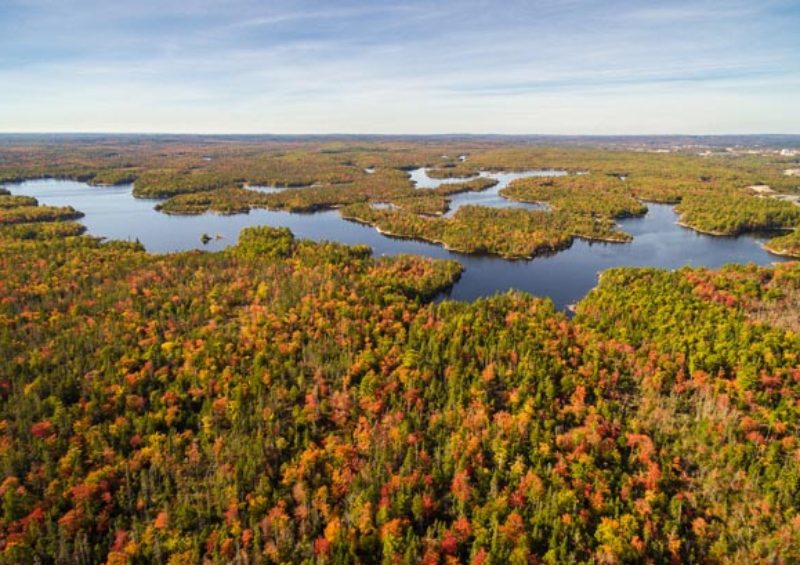 Nature Receives
560 acres of forests, rivers, lakes, and wetlands protected, forever
A critical corridor for wildlife and habitat for endangered species
Landscape connectivity for 5000 acres of pristine nature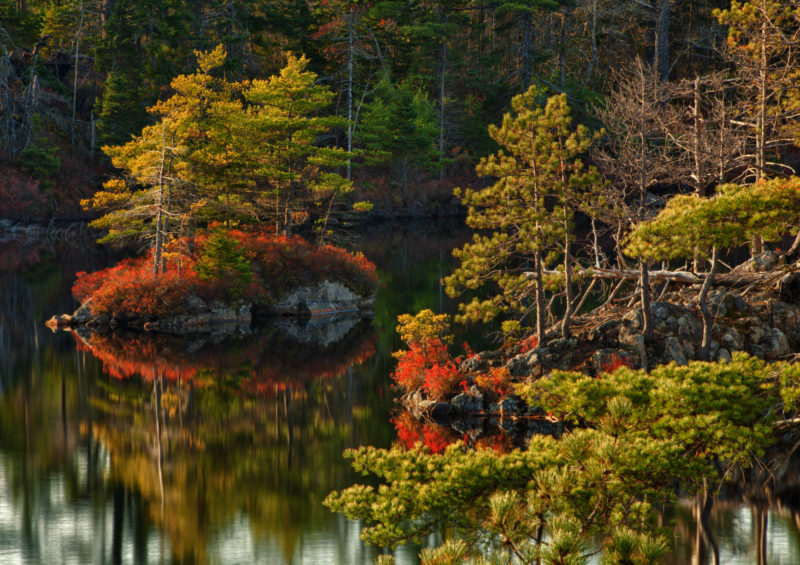 We All Receive
Natural treasures galore. Hiking trails, paddling, fishing and birding, fresh air and clean water too—right in our own backyard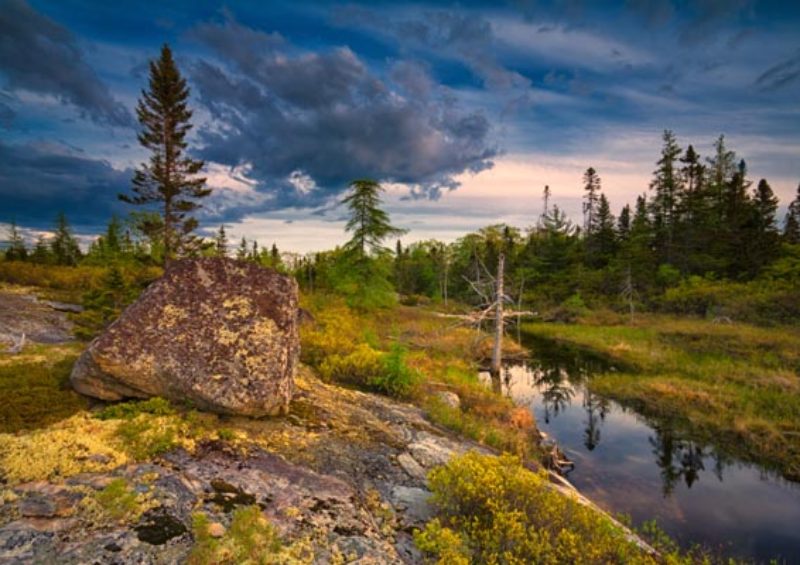 You Receive
A beautiful Wild Blue certificate to recognise your gift—simply print and complete with your recipient's details.
A natural legacy of urban wildlands protected forever, thanks to you
A tax receipt for the full amount of your gift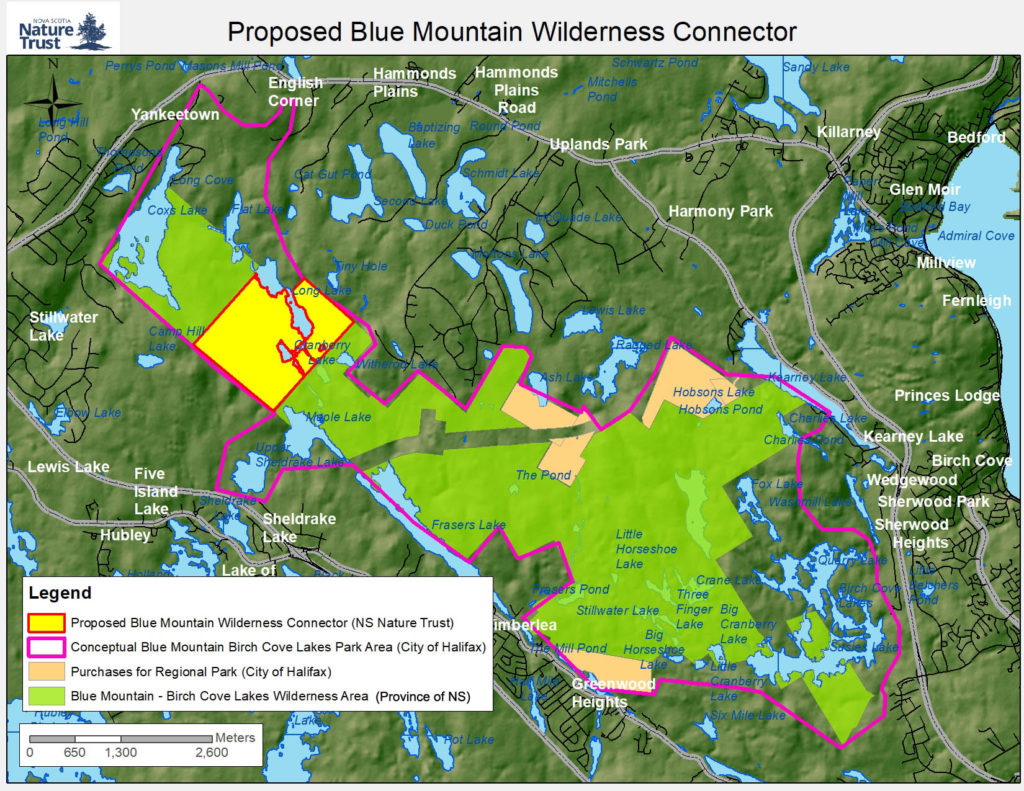 Protecting a 'missing link' in a beloved Halifax wilderness
Between two disjunct sections of the provincially protected Blue Mountain-Birch Cove Lakes Wilderness Area sits a 226 hectare private parcel of land – major missing link in a uniquely large and pristine wilderness, right in the middle of Halifax.
The wilderness, known as the Blue Mountain – Birch Coves Lakes, is a vast expanse of undeveloped wildlands between Hammonds Plains, Timberlea, and Halifax. It is one of the last, large, intact areas of urban wildlands in Halifax. The lands encompass a mosaic of extensive forests, bogs and wetlands rich in biodiversity, rocky barrens and hills, sparkling rivers and 3 pristine headwater lakes. The diverse habitats support over 150 species of birds including loons, osprey and woodpeckers, and many sensitive and at-risk species like Canada Warbler, Olive-sided Flycatcher and Common Nighthawk. The size, location and quality of habitat also contribute to an important network of ecological connectivity corridors.
It also provides important ecological benefits to the city, like clean air and water, carbon sequestration, and refuge from the busy city life. In addition to its important ecological values, the area provides a whole range of valuable recreational opportunities, from forested walking trails to backcountry hiking excursions. The many lakes provide opportunities for swimming, paddling and angling.
While final boundaries and type of protected area are still to be determined for the broader Blue Mountain – Birch Cove Lakes area, the Nature Trust, community groups, the Municipality and the Province all share a common vision of a large protected urban wildland, bringing together multiple parcels of government-owned and private lands in some form of protection. Many of these parcels are not yet protected, and face the increasing threat of urban development.
The first big step towards fulfilling the urban wildland vision was the Province's designation of two large Crown land blocks as Wilderness Area in 2009 and 2015, protecting 1767 hectares (4366 acres). Then in 2018 and 2019, the Municipality purchased and added 210 hectares (519 acres) of private lands. Neither the Province nor the Municipality was actively pursuing the Blue Mountain Wilderness Connector property, and citizens and community groups were growing increasingly concerned about threats to this central and highly strategic property. But now there is an opportunity to ensure that this critical piece of urban wilderness is saved from a devastating outcome.
The owners of the property, Robin Wilber and Bill Fenton, responded favourably to the Nature Trust's encouragement to add their lands to the Blue Mountain – Birch Cove Lakes wilderness. They recognized that while resource and urban development are important, some places, like their lands, are just so unique and so strategic for conservation, that they are truly irreplaceable.
The landowners agreed to forgo potential development, instead selling their land to the Nature Trust, to add to the growing protected area. They generously agreed to donate a sizable part of the land's value as a charitable gift. The remainder will be purchased by the Nature Trust.
But, in order to secure this critical gap in in the wilderness, the Nature Trust needs your help to raise the $2.1 million needed to purchase the property. Your donation will help protect the heart of the beloved Blue Mountain – Birch Cove Lakes from development. And it will help to preserve an important wildlife corridor, and treasured hiking and canoeing paradise, just minutes from downtown Halifax.