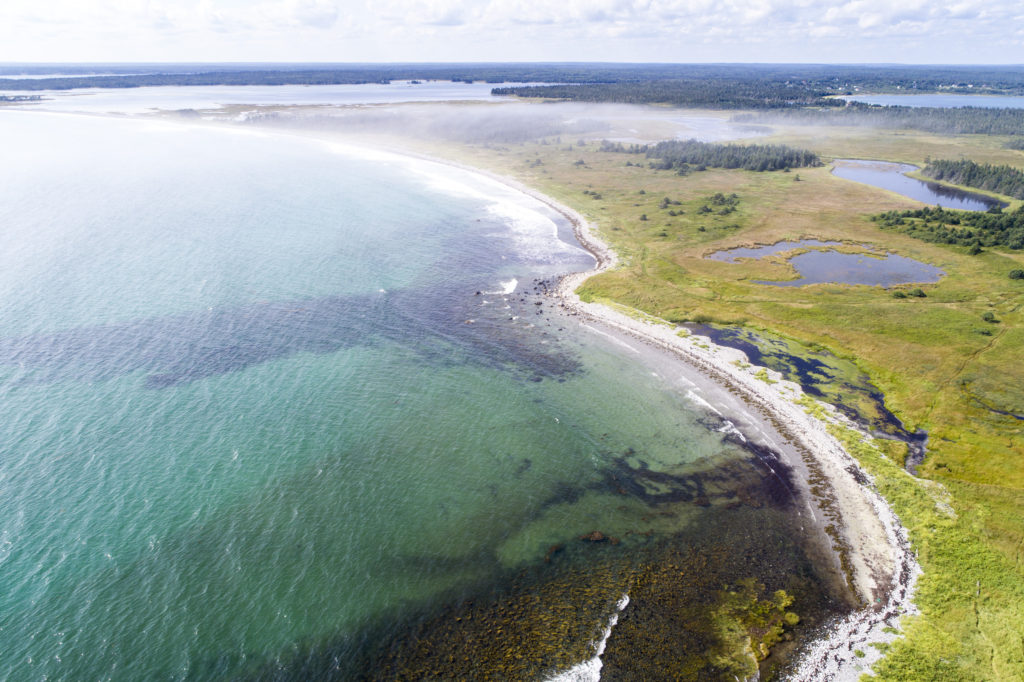 Faites défiler pour la version française
Black Point Beach Property, part of Hemeons Head Conservation Lands
The 150-acre Black Point Beach property was formally protected in 2013 through a visionary conservation easement with Acadia University. The easement means that the conservation values of the property will be cared for forever, and that research and other low environmental impact activities at the site can continue.
The property is adjacent to the Matthews Lake Property, and together they form the Hemeons Head Conservation Lands. This 316-acre protected area hosts an extensive array of coastal ecosystems, including 3km of uninterrupted sand and cobble beach (Black Point Beach), sand dunes, a rocky coastal headland, tidal marshes, sandflats and mudflats, an extensive lagoon, freshwater wetland, bogs, coastal barrens and coastal forest.
The area is of international significance for migratory birds, and is located within the South Shore (Port Joli sector) Important Bird Area. This property encompasses critical habitat for the species at risk Piping Plover, and Harlequin Duck, and is a crucial site for many shorebirds during fall migration. A fantastic bird list is available for visitors to this property. We encourage you to record your bird observations from the Conservation Lands in eBird, and share the checklist with the Nature Trust.
The beach at Hemeons Head occasionally hosts nesting Piping Plovers, including a famous plover named "Hemeon." One of the documented threats to Piping Plovers nesting on Nova Scotia beaches is off-leash dogs scaring them off their nest. Please keep your dog(s) on their leashes, please walk on the wet portion of the sand beach, and obey any Piping Plover signage, while visiting Black Point Beach in the Piping Plover breeding season (May to August).
In 2016 and 2017, the Nature Trust and Acadia University reached out to people who use the Hemeons Head Conservation Lands for walking, bird watching, hunting, clamming, and more, to understand how different visitors value the site, and how they want to see it managed. This input, along with best practices in conservation management, is incorporated into a management plan for the Hemeons Head Conservation Lands. The Nature Trust will continue to engage with people who care about this special place, and include them in property management activities at the site, that may include beach clean-ups, habitat restoration, and control of potentially invasive species such as the Rugosa Rose (Rosa rugosa).
la version française
Propriété Black Point Beach, partie de l'Aire de Conservation Hemeons Head
La propriété Black Point Beach de 150 acres fut officiellement protégée en 2013 grâce à une servitude de conservation visionnaire avec l'Université Acadia. La servitude signifie que les valeurs de conservation de la propriété seront protégées pour toujours et que les recherches et les activités de faibles impacts environnementales sur le site pourront continuer.
La propriété est adjacente à la propriété nommée Matthews Lake, et ensemble elles forment l'Aire de Conservation Hemeons Head. Cette zone protégée de 316 acres abrite un large éventail d'écosystèmes côtiers dont une plage de 3 km ininterrompus de sable et de galets (la plage Black Point Beach), des dunes de sable, un cap rocheux, des marais côtiers, des platins de sable et des vasières, un vaste lagon, des terres humides d'eau douce, des tourbières, des landes et des forêts côtières.
Cette zone est d'une importance internationale pour les oiseaux migrateurs, et elle se trouve à l'intérieur de la Zone Importante pour la Conservation des Oiseaux nommée South Shore (Rive Sud), dans le secteur de Port Joli. Cette propriété comprend un habitat vital pour le Pluvier Siffleur et l'Arlequin Plongeur, deux espèces en danger. Elle constitue également un site essentiel pour de nombreux oiseaux côtiers lors de leur migration automnale. Une fantastique liste d'oiseaux est disponibles pour les visiteurs de cette propriété. Nous vous encourageons à enregistrer vos observations d'oiseaux faites sur l'Aire de Conservation dans eBird et de les partager avec Nature Trust.
La plage de Hemeons Head accueille occasionnellement des Pluviers Siffleurs pour leur nidification, comme le célèbre pluvier nommé « Hemeon ». Les chiens sans laisses qui font fuir les Pluviers de leurs nids, sont l'une des menaces connues qui pèse sur les Pluviers Siffleurs des plages de la Nouvelle-Écosse pendant leur période de nidification. Lorsque vous visitez la plage Black Point Beach pendant la saison de reproduction du Pluvier Siffleur (de Mai à Août), veuillez, s'il vous plait, garder votre (vos) chien(s) en laisse, veuillez marcher sur la zone de sable humide et respecter les panneaux de signalisations indiquant des Pluviers Siffleurs.
En 2016 et 2017, Nature Trust et l'Université Acadia ont interrogé les usagers de l'Aire de Conservation Hemeons Head. Randonneur, observateur d'oiseaux, chasseurs, ramasseur de coquillages etc., ont ainsi pu donner leur avis sur la valeur qu'ils accordent au site et comment ils voient son management. Leurs avis, ainsi que les meilleures techniques de management de conservation, sont incorporés dans un plan directeur pour les Aires de Conservations de Hemeons Heads. Nature Trust continuera à collaborer avec les personnes qui se soucient de cet endroit spécial, et à les inclure dans les activités de gestion de la propriété de ce site, tel que le nettoyage de plage, la restauration d'habitats, et le contrôle des espèces potentiellement invasives comme le Rosier Rugeux (Rosa rugosa).