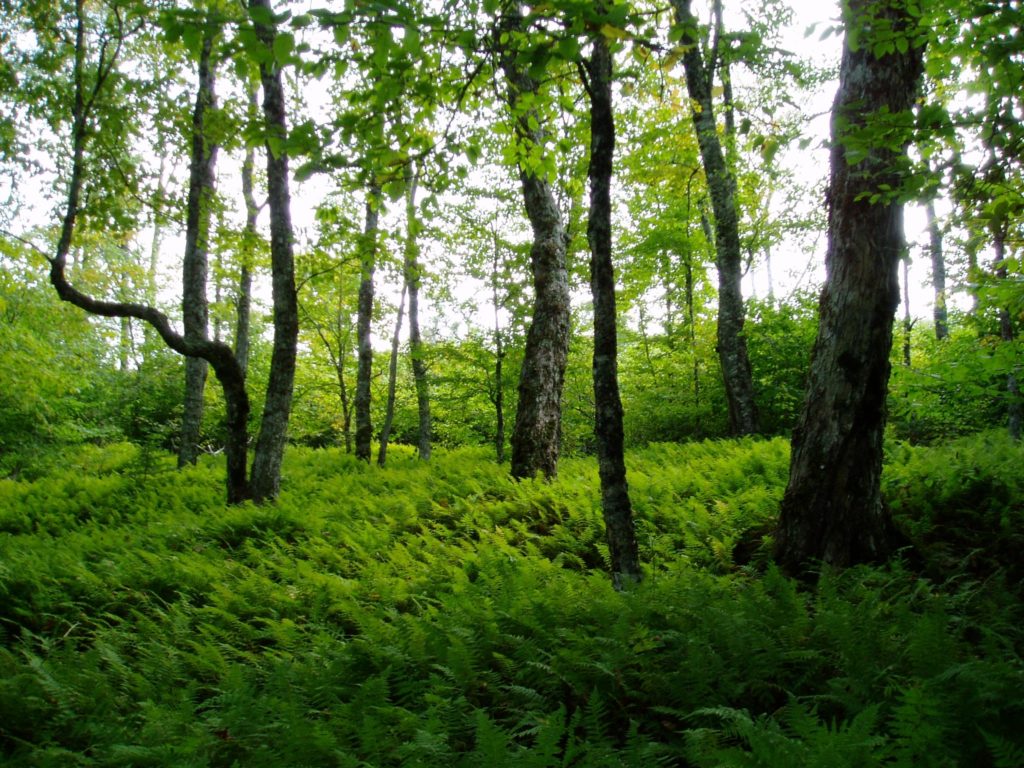 Faites défiler pour la version française
This property is on the West Branch of the St. Mary's River, and shares a border with the A.M. Sandy Cameron Conservation Lands. The southern portion of the property consists of mature Red Oak, Red Maple, and Yellow Birch, with an understory of ferns and flowers, including Canada Lily. The mature forests on these lands provide shade over the water, and reduce erosion into the river, both critical aspects in maintaining suitable habitat for Atlantic Salmon on the St. Mary's River.
The forests along the edge of the St. Mary's River are also one of the few places where the nationally Threatened Wood Turtle is found. This fascinating species regularly forages for berries, mushroom, and soft invertebrates in the floodplain forests of the river. In these lush habitats they can avoid being accidentally killed by cars, or farm equipment, which are dangers that they face when searching for food on developed lands. If visiting this property, please do so in a respectful way by not disturbing any wildlife, or removing any plants, while on your visit.
Dale Archibald generously donated this property to the Nature Trust in 2009. Dale is the past president of the St. Mary's River Association – an organization that is also committed to caring for the St. Mary's River. Thanks to his foresight and conservation ethic, this property is protected to preserve important habitat for wildlife, and will carry on a local family's connection to the beloved St. Mary's River.
la version française
Cette propriété se trouve sur le bras Ouest de la rivière St. Mary et partage une frontière avec l'Aire de Conservation A.M. Sandy Cameron. La partie Sud de la propriété se compose de Chênes rouges matures, d'Erables rouges et de Bouleau jaunes, ainsi que d'un sous-bois de fougères et de fleurs, dont le Lys du Canada. Les forêts matures de ces terres apportent de l'ombre sur l'eau et permettent de réduire l'érosion dans la rivière, deux aspects cruciaux pour le maintien d'un habitat adapté au Saumon de l'Atlantique de la rivière St. Mary.
Les forêts se trouvant le long de la rivière St. Mary font également partie des rares endroits où l'on peut observer la Tortue des Bois, une espèce nationalement menacée. Cette fascinante espèce se nourrit régulièrement de baies, de champignons et d'invertébrés des forêts inondables de la rivière. Dans cet habitat luxuriant, et contrairement aux terres aménagées, elles peuvent chercher leur nourriture sans risquer de se faire accidentellement écrasées par des voitures ou des machines agricoles. Si vous visitez cette propriété, veuillez s'il vous plaît ne pas perturber la vie sauvage et ne pas arracher de plantes lors de votre visite.
Dale Archibald a généreusement donné cette propriété à Nature Trust en 2009. Dale est l'ancien président de la St. Mary's River Association – une organisation également engagée dans la protection de la rivière St. Mary. Grâce à sa clairvoyance et à son éthique de conservation, cette propriété est protégée afin de préserver un habitat important pour la vie sauvage, et entretiendra le lien étroit existant entre une famille locale et la rivière St. Mary qu'ils aiment tant.