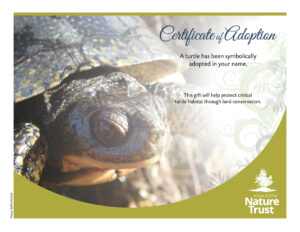 There is something about turtles we just can't help but love. Nova Scotia's turtles are also a big focus for Nature Trust conservation efforts because all species are in trouble. One of the biggest threats they face is habitat loss so we need to protect the shallow lakes, wooded areas, and wetlands that provide their ideal home.
All Gifts of Nature are FULLY ELECTRONIC—you will receive a link to all elements of the gift via email as soon as you make your donation. The turtles you are supporting thank you for helping us make these gifts as zero-waste as possible!
Tax receipt for the FULL value of your gift (link to your tax receipt emailed immediately)
Official Adoption Certificate (link to a Certificate emailed to you immediately)
Introductory Letter highlighting the conservation work supported by your gift (link to a Letter emailed to you immediately)
Instructions on how to complete the "fillable" Certificate (link to instructions emailed immediately)
If you do not receive an email with the links to your Gift of Nature immediately after completing your donation, please check your "spam" folder and/or contact Cynthia@nsnt.ca for assistance.