Tech for Nature: Using Innovative Technologies to Improve Stewardship
31 Aug 2020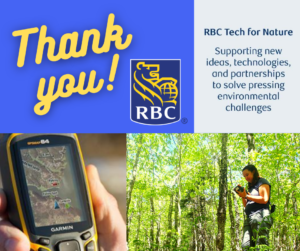 The Nature Trust was recently awarded a $30,000 grant from the RBC Tech for Nature program, with support from the RBC Foundation – an exciting step in moving our stewardship program into the future through innovative new technologies to address mounting challenges. Read on to learn how the Nature Trust plans to meet these challenges through investment and implementation of new technologies, as part of our Tech for Stewardship project.
Our key challenges relate to needing to scale up our stewardship capacity to manage significantly more land and to deal with increasing and increasingly complex threats and stewardship issues. The threats to biodiversity are growing. We need to accelerate the pace and scale of our land conservation action, to protect the best lands we can, before it's too late. At the same time, public use of our protected areas and associated threats are growing, such as all-terrain vehicles in wetlands, hiking trails bringing siltation to streams and rivers or trampling fragile coastal dunes. Compounding these challenges, climate change is causing new and more complex threats such as new invasive species, sea level rise and shifting bird populations. What worked in effectively monitoring and managing 50 or 60 properties and a few thousand acres with little public use or climate impacts, is simply no longer adequate for over 125 properties, and 15,000 acres of land (and counting!), growing public use, and climate impacts on land and species. We need to find efficiencies and scalability in our stewardship efforts. The amount of data being generated in caring for our growing network of conservation lands, and the amount and diversity of data needed for making good conservation decisions—from restoration and monitoring to research, management and enforcement – is also growing rapidly.
Technology and innovative approaches can help us to meet the need to accelerate and scale up our land monitoring and stewardship actions. Technology can help us gather more information, different kinds of information, more effectively and more accurately. Technology, including field tablets, a mobile app, and trail cameras, and use of drone, satellite and other geospatial imagery and emerging technologies like acoustic wildlife monitoring could help us to capture more and better data about our properties, the species, habitats and ecosystems they support, threats, changes, and effectiveness of management actions.
The first phase of our Tech for Stewardship project involves the purchasing of a new database system. Managing, monitoring, restoring and caring for our conservation lands network generates a massive amount of important data. Technology can help us to manage, store, access and share this data more effectively. This project will transform our data collection and management practices through investment in the creation of a new conservation lands management database system (the master repository of all data and management tool for planning, tracking, assessing and evaluating management action and effectiveness) and integrated mobile app, helping us to make sense of all this data, to prioritize and systematize our data.
The land trust specific integrated mobile app, which we're hoping to develop in the coming years, will allow staff, volunteers and conservation partners to upload data from the field (photographs, wildlife records, information on threats and conservation violations, stewardship actions taken) right to the database. At the same time, staff, volunteers and partners can access property information from the database from anywhere, unlocking their capability to take action on the ground, addressing stewardship issues making informed decisions. The use of a mobile app for stewardship will also be crucial in inspiring a new generation of volunteers to join our organization, bringing our Property Guardians program to a whole new audience.
Beyond use by conservation volunteers and partners, the mobile app will also have features that are engaging and readily accessible to a broader base of citizens, who may be interested in more simple information gathering about Nature Trust protected areas and in sharing findings such as wildlife sightings and photographs through apps like iNaturalist and eBird, which we plan to integrate with the Nature Trust's technology platforms. In this way, the app will help to build general awareness about nature, biodiversity and conservation issues and opportunities, to get citizens out in nature and learning about its care and stewardship, thereby helping to shift attitudes and build a stronger culture of stewardship in Nova Scotia.
The Nature Trust does not have the technological expertise, innovation capacities and entrepreneurial spirit in-house to make such a technological transformation happen. That's why for this project we plan to partner with diverse academic and research partners as well as experts in technology to build solutions that work for the specific challenges we face in Nova Scotia. Leveraging RBC's enterprise approach, Tech for Nature could help to bring the right partners to work collaboratively to tackle Nova Scotia's unique conservation land stewardship challenges through technology and innovation.
The conservation challenges land trusts across Canada are working to solve are big ones, and they call for extraordinary solutions. The Nature Trust is a leading land trust in Canada. We pioneered Canada's first conservation easement protecting Municipal lands, then the first protecting University lands. We created a cross-border conservation program to make it possible for lands trusts to protect land owned by US residents in Canada, and we pioneered the very first 'cross-border' conservation easement. And now, we are ready to once again be a conservation leader, creating new technological solutions to meeting complex and growing land trust challenges. The solutions created here in Nova Scotia can be shared and benefit land trusts across the country and even the continent.
A huge thank you to the RBC Foundation for this generous donation.
The most pressing environmental concerns of our time are negatively impacting the planet at a rate that often outpaces the solutions designed to address them. At RBC, we recognize that innovative technologies offer immense potential to help solve these environmental challenges. RBC is leveraging its capabilities in technologies such as artificial intelligence and blockchain as well as its convening power, to build solutions and the type of multi-partner coalitions needed to address and solve our shared environmental challenges.