Jess Wentzell : It's not work if you're having fun!
03 Jul 2020
Andy Robinson, our volunteer Story Teller, recently connected with Jess Wentzell to chat about her experiences volunteering with the Nature Trust.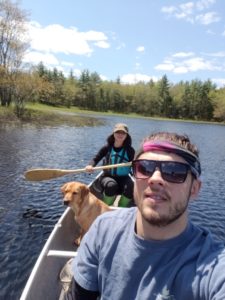 Hi Jess, thanks for taking the time to chat. I'm always keen to hear from volunteers on their connections to nature, and the Nature Trust in particular. Tell me, what draws you to nature?
I grew up in Petite Riviere, Nova Scotia, on a hobby farm, attached to a woodlot. On any weekend we might be exploring rivers, riding horses through our trails or learning from dad how to maintain a healthy and sustainable woodlot.
Dad would take us three kids every year on these amazing canoe trips, all over Nova Scotia. We spent days paddling remote, untouched waterways, sleeping along the sides of the rivers. We learned about wildlife, edible plants, and how to navigate around large lakes and rough waters. I'm now in my 30's, and he and I still spend weekends together exploring river systems we knew then, and those that are new to both of us AND I am lucky enough to have a partner to now share these experiences.
That sounds like an amazing childhood! So what brought you to the Nature Trust?
I've always been passionate about nature. My formative years on the farm and wood lot gave me that appreciation for our beautiful province. I feel blessed to wander through sunset forests, with the majestic calls from barred owls in the night, the sweet smell of fresh fir needles crushed between your fingers, and the soothing trickle of bubbling brooks.
I hope by staying mindful of our environment we can enjoy these same amenities for years to come. Volunteering for the Nature Trust means I can spend time in the peaceful wilderness while also playing my small part to keep our forests and waterways intact.
I can almost smell those fir needles! So how do you choose to volunteer?
As an outdoorsy type, the Property Guardian role really grabbed me, so after training we selected the Medway River property as our guardian property. I visit the property a few times a year. I check things out, note down any concerns, and photograph the property so the team can note any changes year to year. We pick up garbage and deal with any small jobs – bigger tasks we report and agree an action plan with the Stewardship team. I spend a lot of time in an office during the week, so this is a great way to spend my off hours.
And would you recommend the Nature Trust as a great place to volunteer?
Absolutely! I have really enjoyed this volunteer experience. The Property Guardian role lets you to work on your own schedule, so you can still participate even if you have a busy lifestyle! The people are great to work with and everyone shares the same passion – to keep our Nova Scotia wilderness healthy.